A front door is an entrance to your home; it is a key factor in completing the aesthetics of your property and has a huge impact on first impressions. Many different factors contribute towards why you may begin to consider replacing your front door. In some cases, simple wear and tear over the years have forced you into repairing damages, and in others, a front door is the first step towards renovating your home and bringing a new lease of life.
With the plethora of different front door types, styles and designs available, it can often be tricky to track down which option is best suited to your requirements. If you are steering towards a traditional, rustic wooden-effect door, it is important to research into both hardwood and composite wood front doors.
Hardwood vs Composite Wood Front Doors: The Advantages and Disadvantages
Although choosing the correct front door may at first appear to be somewhat straightforward, there are many different considerations you must keep in mind. Price, design, safety and material will all have an impact on your decision, along with any problems you have experienced in the past that you want to avoid in the future.
With this in mind, we have devised an introduction into hardwood and composite wood front doors, along with their main advantages.
What Is Hardwood?
Hardwood simply refers to the type of tree that it has been derived from. Trees that produce seeds inside either a fruit or shell will obtain hardwood and includes types such as the Oak, Elm, Beach or Sycamore. The most common use of hardwood is within constructions or to make durable furniture, hence why it has become one of the most popular materials to build front doors.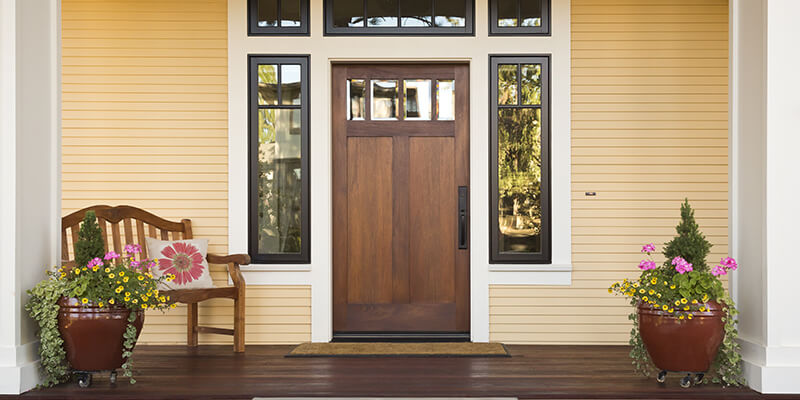 Why Choose A Hardwood Door?
One of the reasons why hardwood is so sought-after is its unique appearance. Every tree produces different contours, shades and grains, which means that no two hardwood front doors are the same. Doors capable of being produced using the skills of a talented craftsman and quality hardwood cannot be replicated using any other man-made material. Along with the accompaniment of glass panels, those who opt for a hardwood front door will achieve an appearance unique to all others.
Although hardwood may seem a little costly initially, compared to other popular materials such as uPVC, hardwood is incredibly cost-effective. Organic hardwood doors are an investment which comes alongside a reasonable price, without compromising on quality or longevity. Due to the toughness of hardwood, you are likely to get away with a long lifespan and may not even need to replace for as long as you live in your property.
The initial extra outlay to purchase and install a hardwood door will quickly be reinstated through a drop in energy bills and the minimal maintenance that you will need to carry out. Due to the composition of wood, it is a natural form of insulation which is able to withstand all weather conditions. Along with heat insulation is also sound insulation, which is ideal if you live near a busy road or town.
For more information on the advantages of hardwood front doors, take a look at Front Door Shop.
What Is Composite Wood?
Composite wood is the newest type of door used in a home and has continued to grow in popularity in recent years. Unlike hardwood, composite wood utilises a combination of different materials including wood, glass reinforced plastic and insulating foam. Essentially, composite wood includes almost every effective material used in other doors such as uPVC and hardwood to enhance performance and improve durability.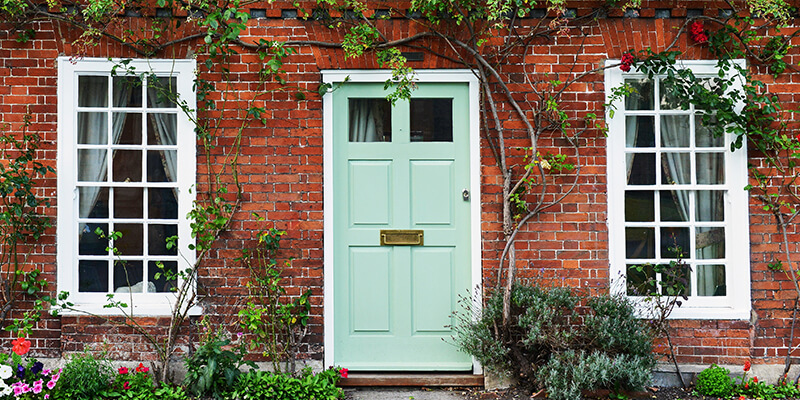 Why Choose A Composite Wood Door?
Thanks to the glass reinforced plastic construction used as the outer layer of a composite door, there are tonnes of different colours available; all of which are designed to withstand sunlight and reduce colour fading. Composite doors are ideal if you live in a modern new-build, contemporary bungalow or any property that you'd like to add a splash of colour to. Colours range from blue and green to red and yellow, so you are guaranteed to find the perfect colour to bring your vision to life.
Composite wood doors include a steel reinforcement which maximises strength and durability. Those who manufacture composite doors boast their robustness meaning that they are able to take their fair share of knocks and bumps before any signs of damage become visible. Not only is strength beneficial in terms of deterioration, but also home security. All materials used to create composite doors are secured under high pressure and cannot be broken down. The uPVC outer layer excludes the worry of warping over time, which if left unsolved, makes it increasingly tricky to close doors, providing a severe safety hazard. If you are particularly worried about the security of your home, composite doors are incredibly easy to fit additional features to, such as a front door chain or even smart locking system.
Similarly to hardwood, composite wood also comes alongside thermal efficiency benefits making them entirely draught-proof. As composite doors are coated in a glass reinforced plastic skin, they are filled with a dense core which is key for trapping heat into the home.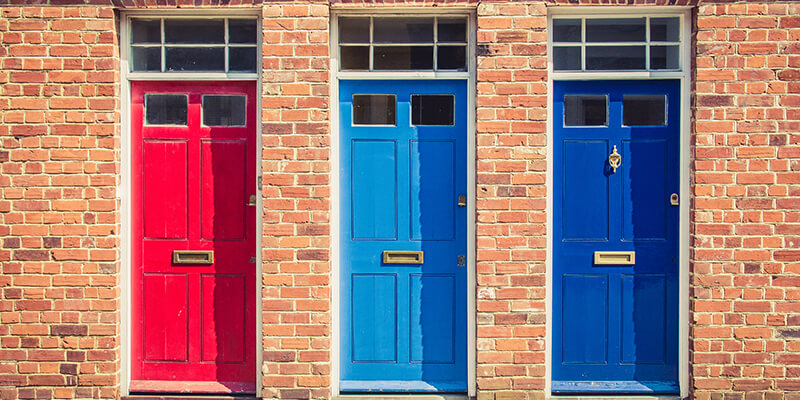 What Door Type Best Suits You?
The front door you opt for should be an accurate representation of the theme of your home, and you should always take into consideration the era of your property before replacement. Those who own a traditional, older property may be better suited to a hardwood door due to the rustic, grainy effect they bring. On the other hand, contemporary new-build homes and apartments would benefit from a composite door which allows them to fit the vibrant colour of their choice.
Both hardwood and composite wood doors bring their individual benefits to your home in terms of both appearance and security. Before beginning the process of making your decision, it is important to draw up a budget. Try to avoid opting for the cheapest option available as it will not bring the quality, durability and longevity your property requires.
If you are looking for a fully accredited team of professionals to repair or replace any property doors in Dunstable, then please feel free to constant CS Windows to book your free quote!