Often referred to as the heart of the home, your kitchen is not merely just a place to cook, but also a spot to entertain guests and spend quality family time. For this reason, it is important your kitchen always looks its best.
These kitchen renovation ideas are a great way to improve your kitchen's aesthetic without breaking the bank. From lighting to shelving, there are so many solutions which will transform your outdated kitchen into a modern space you'll want to show off.
Simple and effective kitchen renovation ideas
Renovating your kitchen may seem like a difficult task, but with some creativity and a little DIY, your kitchen can be completely transformed in a few simple steps.
Whether your kitchen resembles a country farmhouse or a tropical paradise, there are renovation ideas to suit all designs. Customising standard kitchen amenities to suit your preferred style is one of the simplest ways to improve your kitchen, especially if you are on a budget. However, there are extravagant alternative options such as bespoke lighting and installing brand new kitchen appliances.
If you are still looking for inspiration, Ideal Home has a gallery of many different kitchen styles which showcase the endless possibilities of how to transform and improve your kitchen.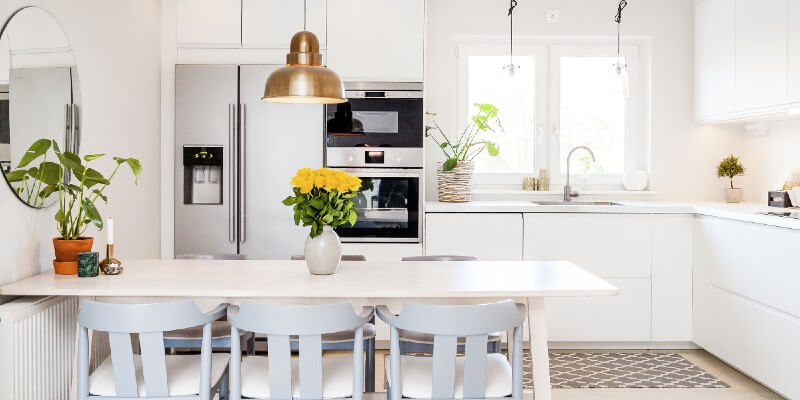 Creative lighting
Lighting plays a key role when giving any room in your home a makeover. However, it is crucial to carefully consider the lighting in your kitchen because studies have shown it could impact your appetite!
If you are looking to make a statement with your kitchen lighting, the bubble chandelier light from Dowsing and Reynolds is the perfect solution. Designed to resemble a floating cloud of bubbles, an ambient pool of light emits from this chandelier when switched on and will instantly add an element of luxury to your kitchen.
Low hanging lights with exposed bulbs have become increasingly popular and are a great way to modernise your kitchen easily. Dunelm's Bremen copper ceiling fitting and Suva 3 light diner fitting are prime examples of chic lighting solutions.
Modernise your countertop
The countertop is one of the main and most frequently used features in any kitchen, so making sure it fits in with the rest of the kitchen as well as being durable is essential. There are many materials which can be used for your countertop, most notably:
Laminate
Laminate is very versatile and is a cheaper alternative to other materials such as wood and granite. It is also available in glossy or matt finishes so you can personalise it to your preference.
Luxury laminate
Luxury laminate countertops are available in a huge variety of colours, making it easy to match with your colour scheme. They also require very little maintenance.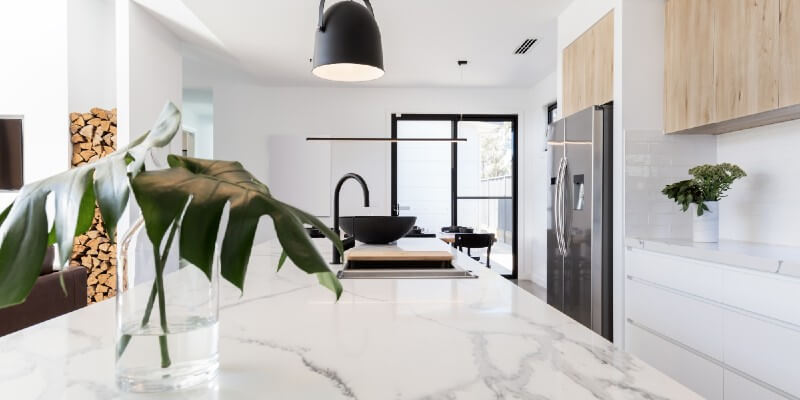 Timber
Timber is the perfect way to add warmth to your kitchen and adds an element of natural beauty to your home. Although some maintenance is required, it is possible for your timber worktop to actually improve with age, and is therefore one of the more sustainable options.
Granite
A granite worktop is exceptionally luxurious as it is a natural stone, making each slap unique in terms of colour, pattern and tonality.If you like one of a kind products, then granite is the perfect choice for you.
For more information and other material options, Wren Kitchens have a useful article which explains what the best worktop for you might be.
Upgrade your appliances
A more subtle way of renovating your kitchen is upgrading your appliances. With technology constantly evolving, it is easy for your appliances to become outdated fairly quickly.
It is also a good idea to ensure the appliances regularly on display, such as your toaster and kettle, complement your colour scheme as this will make the whole room look more organised. The De'longhi range at Argos offers a wide range of ultra-modern kitchen appliances in a variety of colours, such as rose, blue and green.
Some of the most popular kitchen appliance on the market which you may want to invest in are: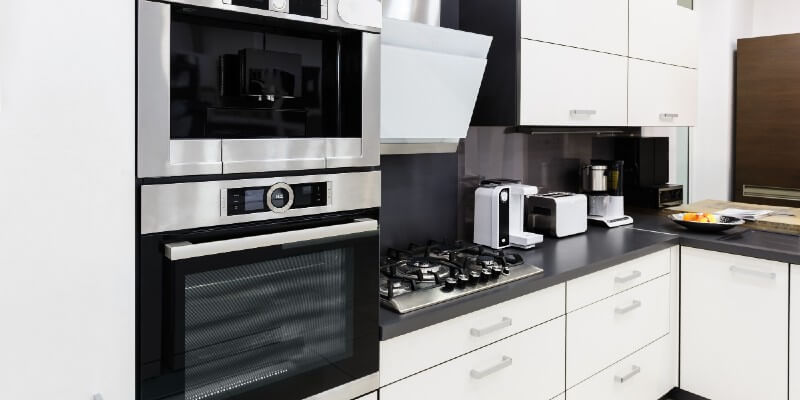 Decorate with plants
Aside from aesthetic reasons, houseplants will make a great contribution to your kitchen as they have many psychological benefits, such as improved mood and reduced stress levels. This is crucial if you want to create a relaxed atmosphere in your kitchen.
Tropical plants
Tropical plants are ideal for kitchens as they are resistant to evaporation. This means they will look great all year round regardless of moisture levels or changing temperatures.
Cacti and succulents
If you have a busy lifestyle or find it difficult to maintain fresh house plants, the aloe and haworthia collection from Waitrose would make a great contribution to your kitchen. Their small size makes them especially suitable for more compact kitchens, and they can be positioned in various places across the room to form a coherent design feature.
Flowers
Fresh cut or potted flowers are a classic feature in most homes and can effortlessly add colour and warmth to your kitchen. Although they require a little more TLC than cacti and succulents, their ability to complement your interior design makes them a brilliant addition to any kitchen.
Herbs and chillies
Growing your own herbs and chillies is obviously extremely practical as you can use your fresh ingredients when you cook. Herbs and chilli plants also boast an interesting appearance, making them a statement piece in your kitchen.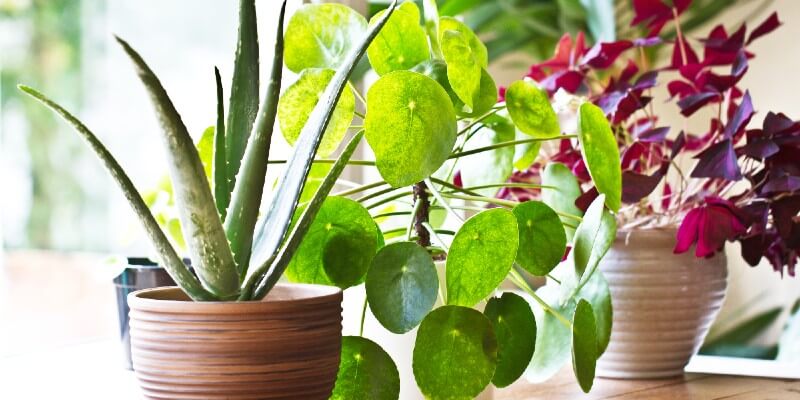 Upgrade your interior cabinets
It is likely that your cabinets take up the majority of space in your kitchen, so transforming them with paint or new handles is an excellent way to change its overall look.
Of course, there are hundreds of colours you can choose from, but if you really want to make a statement in your kitchen, you should opt for vibrant colours such as orange or red. Alternatively, you may want your cabinets to be more subtle if you have patterned flooring or bright coloured walls. In this case, popular colours include English Rose, Vintage White and Duck Egg.
You may think that cabinet handles are a minor accessory, but they make a big difference when trying to update your kitchen. More Handles has a great selection of kitchen door handles and knobs in a variety of styles, so you are guaranteed to find something to match the theme of your kitchen.
Turn your ceiling into a work of art
One of the best ways to create a statement in your kitchen is to transform your ceiling into a mural. This is one of the more unique renovation ideas and therefore perfect if your style is quite eccentric and unconventional. You could opt for a large stencilled pattern or naturistic scene depending on the atmosphere you want to create.
If you do not want to go to the extreme of turning your ceiling into a piece of artwork, there are other options. If you want your kitchen to feel more cozy and intimate, you should paint the ceiling a dark colour such as navy, or even black if you are feeling adventurous. Darker ceiling colours create the illusion of a lower ceiling, so if your kitchen is small, you may want to opt for a lighter colour.
Unique kitchen furniture
If your kitchen is quite spacious, investing in some quirky furniture is a great idea. There are many factors which you should take into consideration when it comes to deciding what furniture you put in your kitchen. You must take into account the dimensions of your kitchen, your storage requirements and also the capacity of people that will utilise the kitchen. The capacity is important because if you have a large family or tend to entertain a number of guests regularly, you will want to make sure you have enough seating.
If your kitchen has a breakfast bar, you can put your own stamp on it by investing in distinctive bar stools. Wayfair sells a variety of traditional and contemporary bar stools which would look excellent in any kitchen.
Other examples of innovative kitchen furniture include:
Serving carts and drinks trolleys
Kitchen Islands
Minibars
Wine racks
Kitchen benches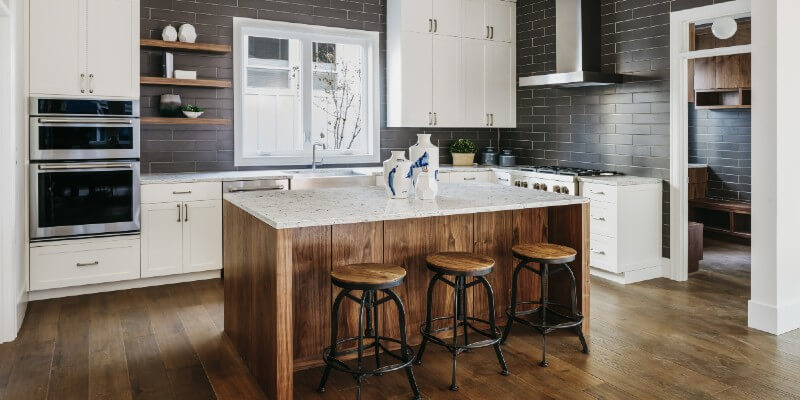 Splashbacks
Both decorative and practical, splashbacks are an excellent way to get creative and add your own personal touch to your kitchen. Splashbacks can be used to add a subtle accent of colour or create an attractive focal point. Some companies also provide a service which allows you to use your own personal images as the splashback background. There are four main types of splashbacks:
1. Glass splashbacks
Glass splashbacks can be easily installed as a single piece and provides great wall protection. Their strength and endurance will also save you money in the long term as you will not have to continuously retile and re-grout your kitchen.
2. Tile splashbacks
Tile splashbacks are one of the most popular options as they offer large amounts of freedom in terms of colour and design. They are also cheaper than the glass alternative. However, it should be noted that they do require extra maintenance and are not the easiest to install.
3. Stainless steel splashbacks
If your kitchen boasts a more contemporary style, then stainless steel splashbacks may be the perfect option for you. They are incredibly durable and easy to clean, which is useful if you do a lot of home cooking. However, they are one of the more expensive options, which is problematic as they tend to mark and scratch fairly easily.
4. Acrylic splashbacks
Probably the most budget-friendly option, acrylic splashbacks offer a similar aesthetic to glass and are slightly stronger. Although, similarly to stainless steel splashbacks, they can be scratched easily if the wrong cleaning material is used. They also need to be kept well away from sources of heat, which means they are not suitable for use behind a hob.
Artistic accessories
Hanging wall art in your kitchen may not seem practical at first, but if there is an open shelf or some free wall space, it is very much worth considering. Wall art is used frequently in interior design as it provides an instant colour palette, creates a focal point and can be as personal as you like.
As previously mentioned, the kitchen is the heart of the home and artistic accessories is just one way you can make it more family oriented. For example, you can display your family photos in personalised or designer photo frames to make it extra special.
Posterlounge offer stylish and modern wall stickers and prints that would complement any kitchen style and be the perfect finishing touch.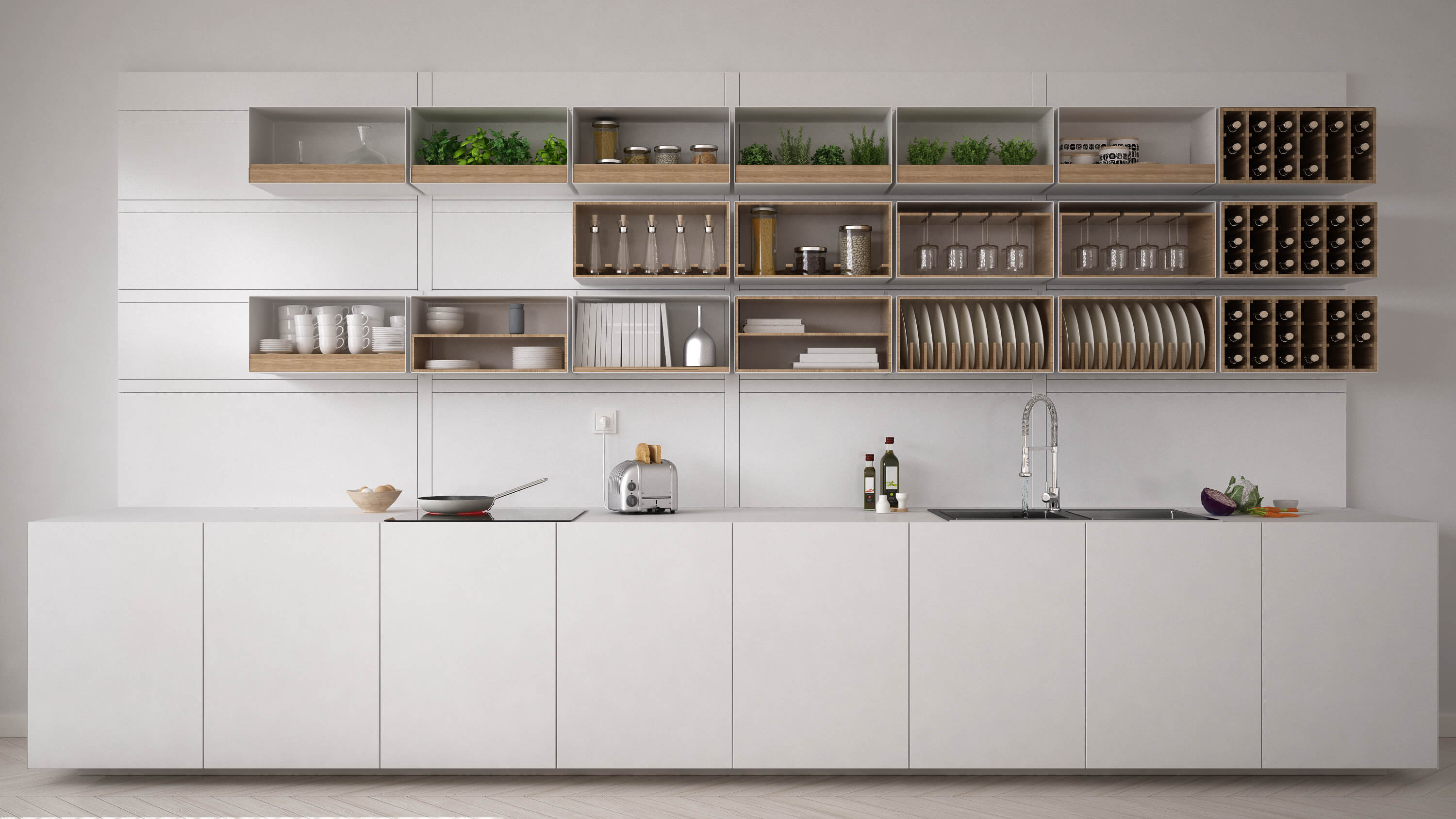 Open shelving
Open shelving has become a highly desirable kitchen feature in recent years. Cabinetry can often make your kitchen look plain and dense, so in order to make the room feel more spacious and airy, you should display your kitchenware and other accessories on shelves.
If you are considering open shelving, it is important to take the minimalist approach in order to avoid your kitchen looking cluttered and chaotic. Try to avoid filling your shelves with all of your dinnerware and glasses and instead display a couple of each item.
Making your house a home
As one of the most frequently used rooms in any home, the kitchen should be a place which showcases your creativity, but also offers a relaxing atmosphere for family and friends to enjoy. By using any of the suggested renovation ideas, you can make your kitchen look brand new for a fraction of the cost and create a versatile environment for all.
If renovating your kitchen has inspired you to make further home improvements, windows and doors Luton and bifold doors Luton is a great place to start transforming your home's exterior.