When it comes to creating your dream home, many people focus on interior design or landscaping but fail to acknowledge the importance of windows. The windows of any property can significantly improve its overall appearance, as well as providing money-saving benefits such as reduced energy bills. So, if you are moving into a new property or think your home just needs some TLC, keep reading to find out how to choose the right windows for your house.
The ultimate guide on how to choose the right windows for your home
Although selecting windows for your home may seem like a simple task, there are actually many factors you need to take into consideration. Firstly, you need to decide what material you want your windows to be made out of. Each material has its own advantages and disadvantages, so it's important you pick a material suitable for your property. You also need to determine what style of window you wish to install. There are various styles available, some are modern while others are more traditional, so you may want to opt for a style that matches and complements the rest of your home. Finally, you also need to think about what glazing options you wish to opt for. The type of glazing you choose will impact the thermal and noise insulation of your home, as well as the amount of light which can enter the property. So, without further delay, here is our handy breakdown of all things window related that will help you find the perfect home improvement.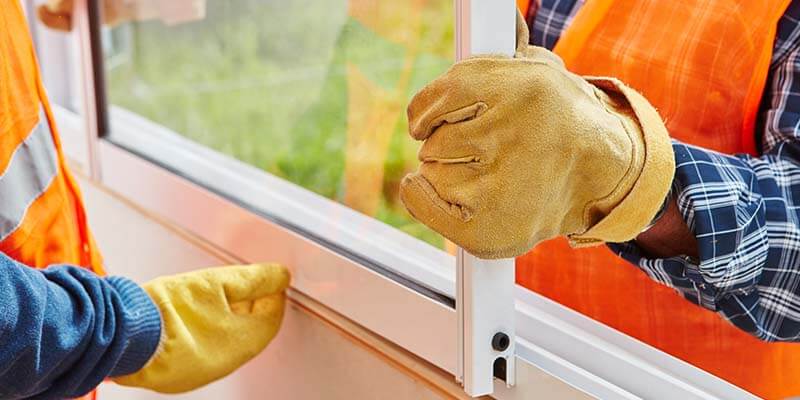 What is the best material?
When choosing the material of your windows, you need to think about your lifestyle, budget and the weather you usually experience. While some materials are quite versatile and can withstand varying weather conditions, others cannot adapt as well. Moreover, some materials are significantly more expensive than others, so you will want to ensure you are selecting one that is within your budget to avoid disappointment.
uPVC
Since the 1990s, uPVC windows have become an increasingly popular feature in UK households for many reasons. One reason why uPVC windows have become the nation's favourite is because of their high weather resistance. Due to its non-porous nature, these windows are perfect for the rainy British weather. Another notable benefit of using uPVC as a material for windows is that is has a respectable lifespan (roughly 35 years!) and will not change shape or warp during this time. As one of the cheapest materials available, they are also great if you do not want to spend a lot of money. However, their appearance is quite basic, so are most suited to generic modern-style buildings. With years of experience of installing uPVC windows in Dustable and all over the country, you can rely on us to provide you with high-quality windows, professionally installed by our experts.
Timber
Timber windows are one of the most aesthetically pleasing on the market. They instantly add character and are ideal for maintaining the appearance of a period property. Compared to uPVC windows, which already have an impressive lifespan of 35 years, timber windows have an even longer lifespan of 60 years! In fact, with regular maintenance, you can even increase their lifespan without having to replace the whole window. Furthermore, we are all aware of the current environmental crisis we are experiencing, so why not do your bit for the planet and promote an eco-friendly lifestyle using FSC certified timber windows?
Aluminium
Aluminium windows are typically used as large floor to ceiling windows in households which offer a panoramic view of beautiful scenery. If you want as much natural light as possible to enter your home, aluminium windows are the perfect solution as they require minimal framework around the edge of the glass. They can also be easily shaped, which means the design possibilities are endless. The minimal maintenance they need is an added bonus too, as it means you don't have to use your valuable time to keep the windows looking pristine.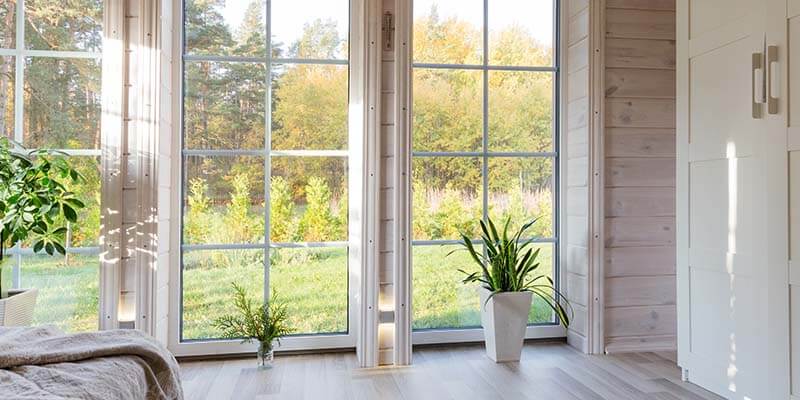 What is the best style?
When it comes to choosing the style of your windows, it's really down to your personal preference. Of course, you want the windows to match the aesthetic of the rest of your home, and with so many styles available, you are guaranteed to find one that suits perfectly. You also need to consider a style that is appropriate for your lifestyle as not all windows are suitable if you have young children.
Casment windows
Casement windows affix to the frame at the side by one hinge or multiple hinges. This type of window opens outward, like a swinging door, and can be easily operated using a hand crank. One of the most significant advantages of casement windows is that they provide excellent ventilation. Since they open outwards, they can capture fresh air, side breezes and light easier than any other window type. Typically, the locks for these windows are also embedded in the frame, making it extremely difficult to break into and thus improving the security of your entire home.
Double hung windows
If you are hoping to achieve a traditional look, then double-hung windows are the best option. Being amongst one of the favourite household window styles, it is no surprise that this type of window is available in a variety of colours, making it easy to complement your colour scheme and overall property aesthetic. As well as being compatible with most home styles, these windows can also accept air conditioners and screens, unlike casement windows. Due to operating by sliding up and down, as opposed to cranking or sliding side to side, they can safely hold an air conditioning unit, perfect for summer!
Sliding windows
Sliding windows are fairly self-explanatory – they are extremely easy to operate as they simply slide open and allow a breeze to enter the room. Being fairly inexpensive and easy to maintain, you can also enjoy an unobstructed view with these windows, making them ideal if you have an attractive garden or scenic surroundings. Furthermore, the locks on the windows are simple to work and secure, so if you are security conscious, we highly recommend this window style.
Tilt and turn
This practical and versatile window style is popular as it has a very innovative way of opening. Using the handle, you can turn it 90° to make the window swing inwards, opening the aperture fully. Alternatively, you can turn the handle 180° which will tilt the window open slightly, leaving space for a breeze to enter at the top. Being so flexible, this particular window style is optimal for smaller spaces as you don't need it to be fully open to allow ventilation. Moreover, tilt and turn windows generally have better air-seals than sliding or double-hung window frames, making them less prone to water leakage and cold draughts.
What is the best glass?
In terms of window glass, you have three options to choose from: single, double or triple glazed. Generally, most homes are now fitted with double glazing as it provides significant thermal and noise insulation. The extra pains of glass in double and triple glazed windows effortlessly reduce the amount of heat which is able to escape from your home as well. As a result, by opting for these types of glass, you can reap the benefits of reduced utility bills.
The perfect finishing touch to your home
Windows have the remarkable ability to transform any property's interior and exterior completely, so finding the perfect ones for you and your home is vital. We want all of our customers to feel catered for, which is why we cover a number of areas across the country. So, whether you want windows in Luton, or windows in Watford, feel free to contact us and we will be more than happy to help.