Conservatories are the perfect hotspot for spending the long summer evenings relaxing with loved ones after spending the afternoon enjoying a BBQ. However, one issue that is notorious amongst conservatories is that they become a little chilly in the winter and overheat during the warmer months. In many instances, it doesn't take long for the room to become unpleasant with a humid atmosphere. While the most effective way to resolve this is to upgrade your conservatory, this will require a higher budget, so it is always beneficial to try more affordable hacks before going ahead. Luckily, having specialised in conservatories in Luton and the surrounding areas for many years, we have a host of handy tips on how to cool your conservatory, so have put them together into a useful guide.
Top Tips On How To Cool Your Conservatory
There are a whole host of sought-after benefits that come alongside having a conservatory, from enhanced natural light and additional living space to an uninterrupted view of the outdoors, making it essential that you can enjoy your room all year round. For many, it has become a sanctuary for relaxing during the lockdown, helping to maintain a work-life balance while working from home. Nevertheless, if you have noticed that you are finding it tricky to maintain a comfortable temperature, especially during the summer, then its time to consider ways in which you can keep your conservatory cool. So, why not start with our top tips?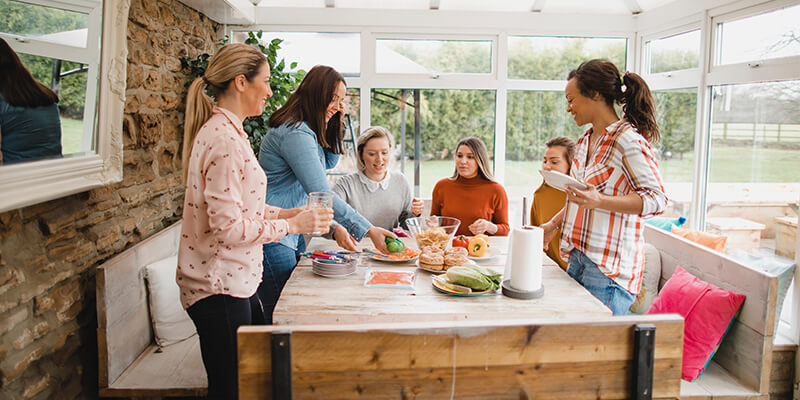 For those with a slightly higher budget, the most effective way to keep your conservatory at a steady temperature is to replace the roof. Especially if you have an older style build, it is likely that a considerable amount of the roof is glazed, allowing heat to stream in, making the space unbearably warm throughout the summer. Depending on the conservatory type that you have, there are several different roof types that you can choose from, including those that are Victorian style for a more traditional appearance to lean-to for a modern aesthetic. For maximum results, we would always recommend opting for a Guardian tiled roof as this has been specially designed to maintain reliable temperature control.
Installing a Guardian tiled roof involves completely removing any old materials and replacing each component with modernised alternatives. Although the beams, insulation and tiles will all be refitted, the process is actually relatively straightforward and will take only a few days to complete. Due to the increased insulation of a Guardian tiled roof, not only does the room stay cool in the summer and warm in the winter, but you will also enjoy a significant reduction in energy bills. The finish of the roofing can also be customised to fit with your requirements with different tile colours available, as well as the option to incorporate roof windows.
If you would like more information on other roof types available, take a look at our previous article. Alternatively, to schedule a consultation, please do not hesitate to contact our team. As experts in conservatory roof conversions in Luton and the local areas, our team can provide invaluable advice on the best route for your property.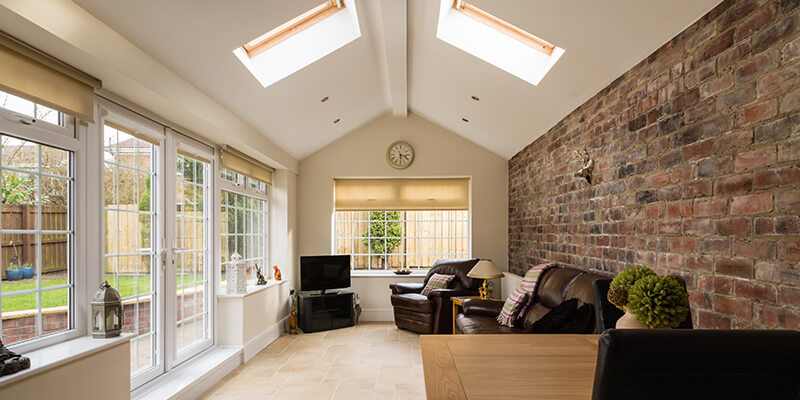 Fitting blinds is one of the most affordable and simple solutions to keeping your conservatory cool. They help towards shielding the suns glare while remaining practical, offering a dual function by adding a stylish touch to your space. Moreover, should your garden be a little more open to neighbours or the public passing by, installing blinds will also give you added privacy.
When choosing the perfect blinds for your conservatory, you most definitely will not be short for options to complement your interior design. Just some of the most popular blind styles include:
Pleated – Designed with concertina folds, pleated blinds are one of the most common options as they can be opened fully from the bottom up to allow maximum natural light. You can opt for either a light coloured blind to keep the room bright and airy or a blackout alternative to allow complete privacy.
Roman – When closed, Roman blinds feature just one large stretch of fabric, offering a minimalist appearance. Inside of the fabric is several mounting slats which allow the blinds to fold neatly in pleats when closed. More information on this style can be found over on Roman Blinds Direct.
Roof – Whether your conservatory is designed with a fully glazed roof or is plastered with roof windows, fitting blinds are a fantastic way to shield the room from sunlight during the warmest times of the day. Thanks to modern technology, there are now several remote-controlled roof blinds which can be opened and closed in just a click for your convenience.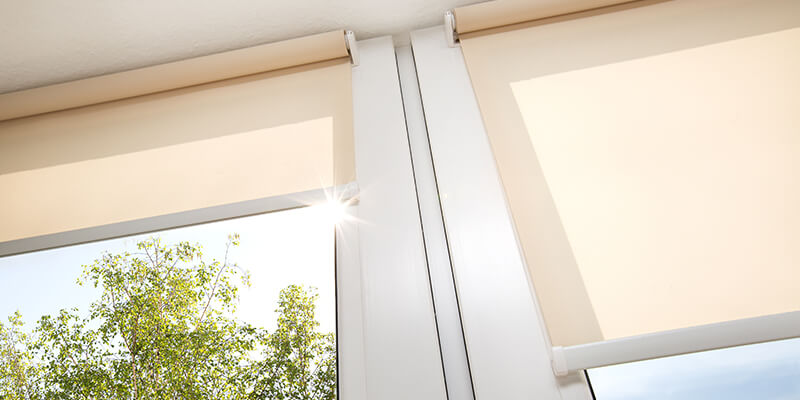 Although it may sound obvious, you would be surprised how much of a difference allowing fresh air to filter through your conservatory can make to its temperature. With this in mind, if you notice that your room is becoming a little stuffy, then the solution could be as simple as opening the windows and doors. For those with a roof window, don't forget that this is also a fantastic way to improve ventilation without having to leave doors open throughout the day, especially useful if you have young children or pets that you need to keep an eye on. If you do not have a roof window, on the other hand, consider improving airflow by keeping both the top and bottom vents open.
Along with keeping your conservatory cool, improving ventilation also comes alongside a host of additional benefits to your family. Fresh air has been scientifically proven to improve health, working towards clearing your lungs and boosting focus. It can also help towards strengthening your immune system, which is particularly beneficial in the current climate. This is because an increase in oxygen in the body will improve your white blood cells ability to fight germs. For more ways that fresh air can improve your health, take a look at the LIWLI website.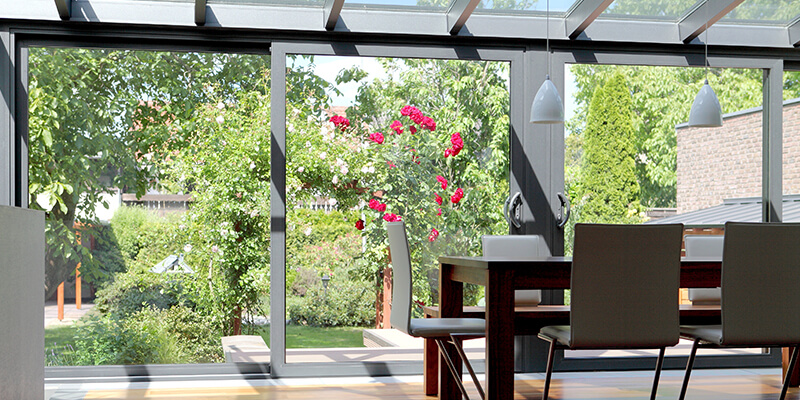 Much like replacing your roofing system, if you have a higher budget, then installing air conditioning will be a highly effective way to cool down your conservatory. Depending on how much money you are willing to spend, there are several options available, ranging from those that are freestanding to others that are fitted permanently to your conservatory. Freestanding air conditioning units will always be more affordable, costing just over £100 for a basic model; however, they may not provide you with the performance that you require. A fitted air conditioning system, on the other hand, will be an average of around £2,000, which may sound expensive; however, will come with additional benefits. Not only will the system help to humidify the air, but you can also opt for dual designs which cool the air in the summer and keep your conservatory cosy in the colder months. Take a look at Boxt for a host of handy tips on how to choose the right air conditioning system for your home.
Both ceiling and freestanding fans are a practical, effective and relatively cheap way of cooling your conservatory. Again, your budget will be a significant contributing factor towards which option you choose. Ceiling fans are often a more favourable option as they can blend seamlessly with your interior design and will not take up any valuable space in your conservatory. However, there are now many modernised freestanding fans which look more aesthetically pleasing than the conventional big and bulky designs. Dyson fans, in particular, not only have a contemporary appearance, but they are also high performance without being too noisy. They are an excellent option if you are looking to invest in a quality, long-lasting freestanding fan which you can move from room to room as you wish.
For those who would prefer a ceiling fan, it is important to keep in mind that they can only be installed on conservatory ceilings that are strong enough to withstand the weight of the fan. They cannot be fitted onto any convenient rod, particularly those that are plastic, as you risk damaging the roof and in the worst-case scenario, the fan will fall down. For more details on the do's and don'ts of installing a ceiling fan in your conservatory, take a look at Fantasia Ceiling Fans.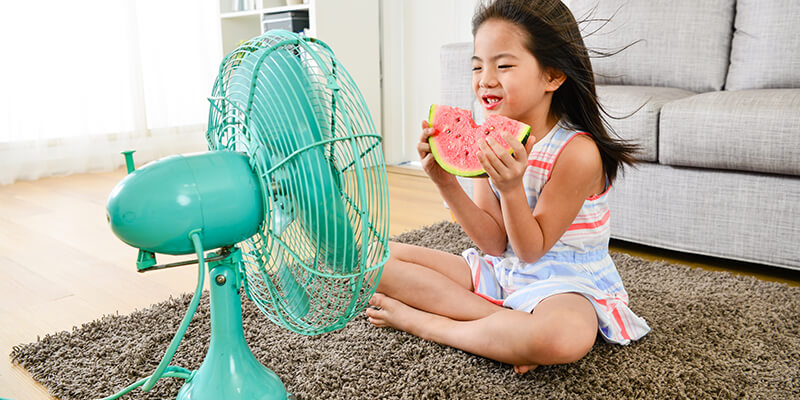 A glazed roof is a wonderful addition to any conservatory; however, as mentioned previously, can be the culprit for causing temperatures to rise. If you adore star gazing in the evenings and do not want to swap to a plastered roof, then adding a cooling film to the glass would be the perfect solution.
Cooling films are designed to be fitted directly to the inside of your glazed roof and are able to block out up to 78% of solar energy. It creates a mirrored effect on the exterior of the roof, which reflects the sun instead of letting it stream into your conservatory. Not only does this prevent your conservatory from overheating, but it also reduces glare and helps towards reducing your exposure to UV rays. The Window Film Company has put together a helpful guide with more details on what to expect when fitting a cooling film.
If like many of us, being indoors during the lockdown has made you want to renovate your home, then this idea would be perfect for you. Did you know that your interior design can impact how cool your conservatory stays during the warmer months? This is because a light colour scheme will make the room feel bright and airy, whereas darker shades will do the opposite. We also recommend opting for soft fabrics such as cotton instead of leather as this tends to retain heat and therefore, makes the room feel warmer. Wooden furniture is also a good option for maintaining a cooler atmosphere and is also a super versatile option to complement your decor.
Another surprising decor idea that will help to keep your conservatory at a lower temperature is houseplants. As plants lose water during the transpiration process, water vapour is released into the surrounding air, which in return, cools down the room for a fresher environment. For five great houseplant ideas ideal for your conservatory, take a look at House Beautiful.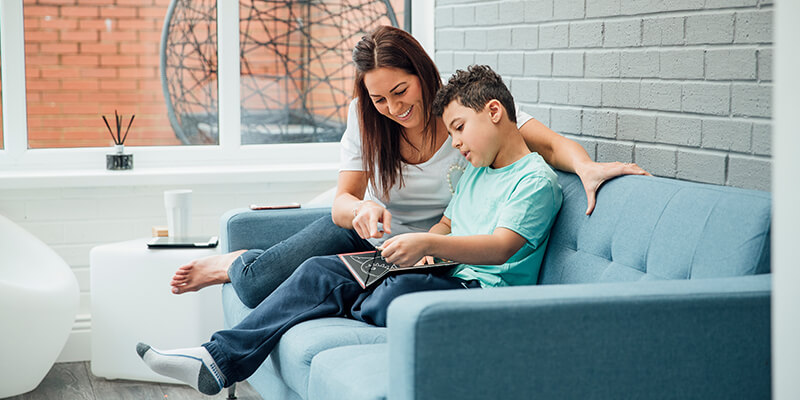 Creating The Perfect Summer Retreat!
Although a conservatory that is prone to overheating is common, this needn't mean that you cannot spend time in your room during the warmer months. Through matching your budget with the best-suited cooling solution from our guide, it couldn't be easier to create a space that can be enjoyed all year round.
If you are hoping to replace your conservatory or are considering enhancing your home with a new addition, then please do not hesitate to contact our team. With years of experience designing and building conservatories in Dunstable and the surrounding areas, they will work with you to bring your vision to life!