Most homeowners now decide to have their window frames made from Un-Plasticized Polyvinyl Chloride because of its vast benefits. For example, uPVC frames have remarkably low maintenance requirements as they are much stronger than traditional wooden frames. They can also sustain their quality and shape much longer and are resistant to corrosion and rotting, unlike wooden frames. uPVC window frames also do not require repainting or resealing and are relatively damage resistant. However, in order to preserve their longevity, they need to be cleaned regularly. Thankfully, we have put together a handy guide to help you do this! As specialists in windows, conservatories and double glazing in Harpenden and the surrounding areas, we are experts in all things window and are happy to help you look after your uPVC frames properly.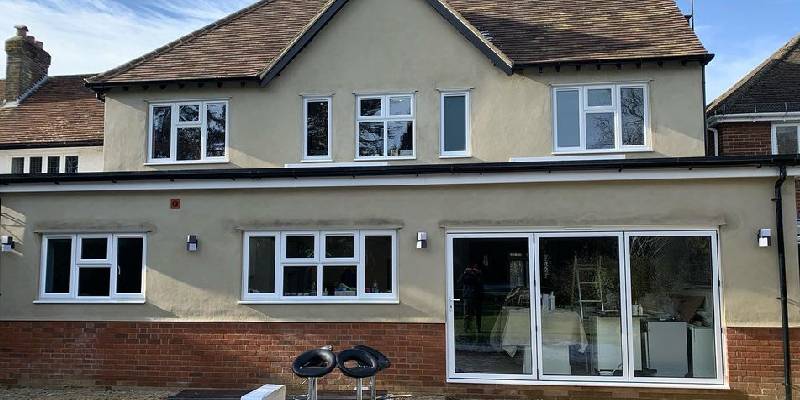 CS Windows Project – uPVC Window and Bi-fold Installation
How To Clean uPVC Window Frames: A Guide
It is essential to implement a proper maintenance regime for your uPVC windows to preserve their durability and save you from having to replace them prematurely. The more often you clean your window frames, the easier the job becomes. If you live in a rural area, it is advised that you clean your window frames every six months. Every three months is the suggested time frame for properties in more built-up areas. Our team regularly installs windows in Harpenden and the surrounding areas and has plenty of advice to offer on how to go about cleaning your uPVC window frames: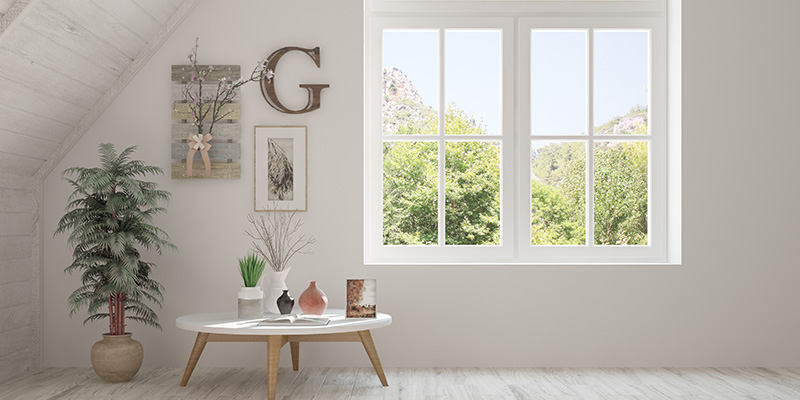 The process of cleaning your uPVC windows should be fairly simple. You will only need a few items, several of which you likely already have lying around the house! We have broken the process down into steps to make the task as easy as possible for you.
You Will Need:
1. Wash Off Dirt And Debris
Mix hot water and a few drops of dish soap together in a bowl. Wet your non-scratch sponge with the mixture and start wiping away any dirt and debris from your window frames. Once you are satisfied that your frames are clean, rinse any suds away with plain water. If you are cleaning your frames from the inside, use a dampened cloth instead of a wet sponge for this step to avoid flooding the house!
2. Dry The Frames
Use a soft rag or towel to dry off the frames before proceeding to the next step. If you are washing your window frames from the outside and the weather is good, you can also allow them to air dry.
3. Buff The Frames
This step will add a layer of protection to your window frames that should prevent them from getting dirty as quickly. Apply a small amount of car wax to your microfibre cloth and gently rub it onto your dried window frames. Once you have covered the frames, use a clean section of your cloth to buff off the wax.
The insides of your window frames can get surprisingly dirty with a collection of debris and cobwebs. Accumulated over time, this can make it difficult to open and close your window, which is why it's important to clean out the insides of your uPVC window frames. Here is a guide on how you can do this:
You Will Need:
1. Remove Dirt And Debris
To begin this procedure, open your windows fully and use your vacuum cleaner to remove any debris such as cobwebs, dust or dirt from the inside of your window frames.
2. Clean With Soap And Water
Once the insides of your window frames are free of debris, you can proceed to wipe them down using a cloth and a mixture of warm water and dish soap. Make sure to clean the entirety of the inside of the frame without neglecting any small crevices.
3. Dry The Insides Of The Frames
Use a clean, dry cloth to absorb any moisture from the insides of your window frames.
4. Maintain The Metalwork
Use a light oil spray to maintain the handles, hinges and locking systems within your windows. This should be done every six months to preserve their longevity. It is essential for the safety and security of your home to ensure that your windows are in good working order. If the hinges on your windows are stiff, this can obstruct your escape route in the event of an emergency. If the locks on your windows are broken, it becomes easier for burglars to break in. This article by Cement Answers will inform you on how to lubricate your window hinges, as well as warn you against products you shouldn't use on uPVC window frames, such as WD40.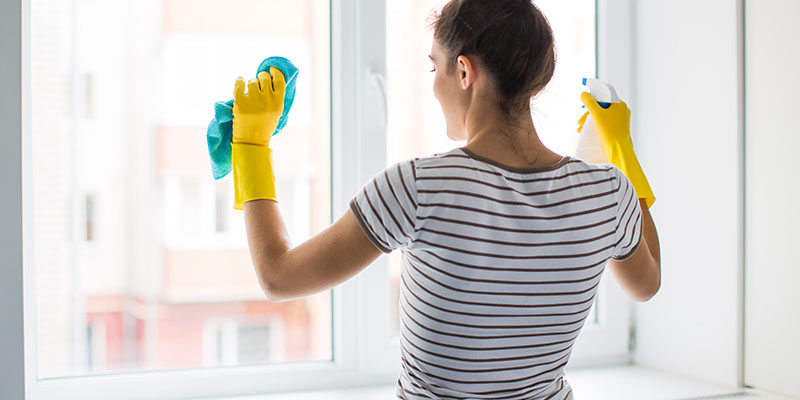 Not only is mould on your uPVC windows frames unsightly, but it can also become a health hazard if not dealt with. Thankfully, cleaning mould off uPVC window frames shouldn't be too difficult. First, try following our method for cleaning uPVC window frames. If this doesn't work, our method for cleaning discouloured window frames with vinegar should do the trick!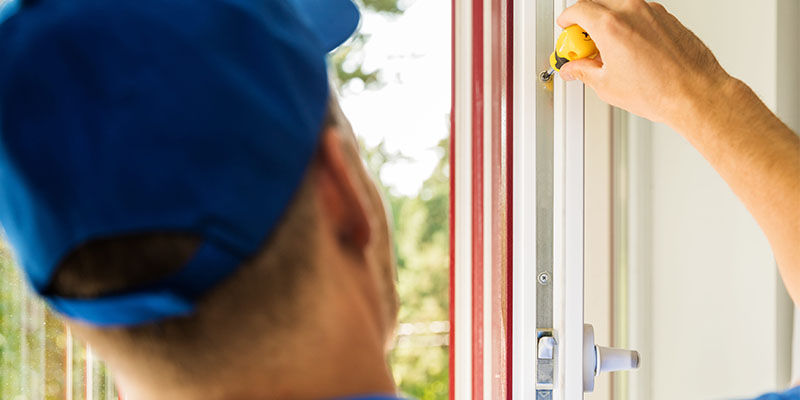 The frames of your windows may experience discolouration if they have been continually exposed to household cooking fumes or cigarette smoke. If this is the case with your windows, do not use abrasive substances or scouring pads in an attempt to restore the original colour. Ammonia-based products are also likely to damage the uPVC materials.
Instead, you can follow these simple steps to restore your frames to their original white colour.
You Will Need:
1. Make The Stain Removal Solution
Mix four cups of hot water with a cup of vinegar and pour the solution into a spray bottle.
2. Apply The Solution
Spray the solution onto your uPVC frames and wait at least 10 minutes for it to work its magic before proceeding to the next step.
3. Wipe And Reveal
Use your microfibre cloth to wipe away the solution and reveal your rejuvenated, white window frames!
4. Maintain
Protect your uPVC window frames from future discolouration by regularly cleaning them using our method above. Avoid smoking in the house and open your windows or turn on the extractor fan when cooking for ventilation.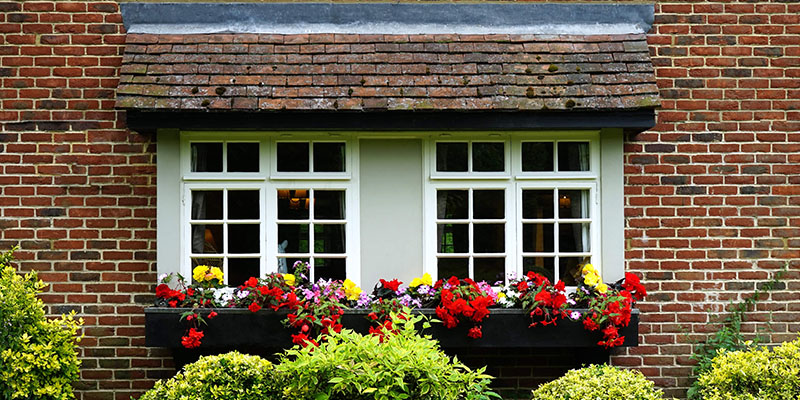 How Do I Get My uPVC Windows White Again?
If your uPVC windows have discoloured over time, visit our method above for advice on restoring their original white colour and preventing future discolouration. It would also be best to avoid using coloured cloths on your uPVC frames as the material dye may transfer onto the plastic frames.
How Do You Clean Plastic Windows Without Scratching Them?
Under no circumstances should you employ the use of any harsh chemicals or abrasive sponges on the frames. If you struggle to remove stubborn dirt or stains, you can use a solvent uPVC cleaner. You can purchase this product from DIY shops such as Screwfix. However, when applying the solvent cleaner, you must keep it away from your window's silicone seals as this can cause them to lift away from the surface.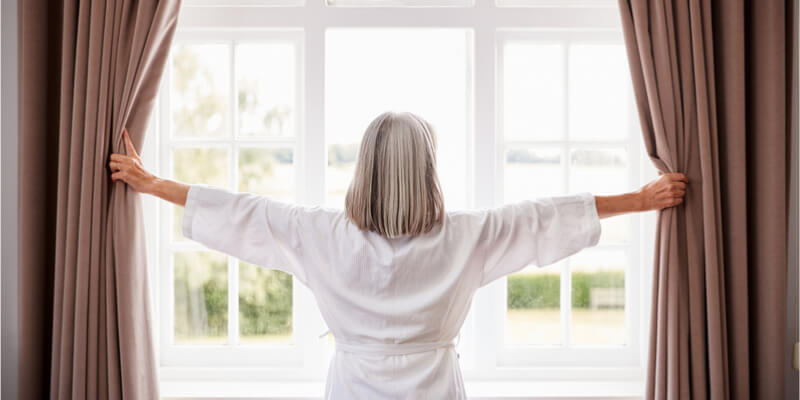 How To Maintan uPVC Window Frames
We hope that this article on how to clean uPVC window frames has been informative and helpful. Our team regularly installs uPVC frames for windows and conservatories in Harpenden and the surrounding areas and can testify to the many benefits of choosing these types of frames. However, to preserve their durability and longevity, it is absolutely essential to take the time to maintain your window frames by cleaning them properly and routinely. If you think that you have neglected your window frames beyond the point of repair, you can get in touch with our team to discuss fitting new windows in Harpenden or one of the surrounding areas.