Often referred to as the heart of the home, your kitchen is not merely just a place to cook but also a spot to entertain guests and spend quality family time. For this reason, it is important your kitchen always looks its best. These kitchen renovation ideas are a great way to improve your kitchen's aesthetic, be it traditional or modern. From lighting to furniture, there are so many solutions which will transform your tired kitchen into a modern space you'll want to show off.
Stunning Kitchen Renovation Ideas To Transform Your Space
Renovating your kitchen may seem like a difficult task, but with some creativity and even a little DIY, your kitchen can be completely transformed without upheaving half the house! Between customising standard kitchen amenities to suit your preferred style and completely reframing the space by illuminating it using both natural and artificial light, you can make a huge difference.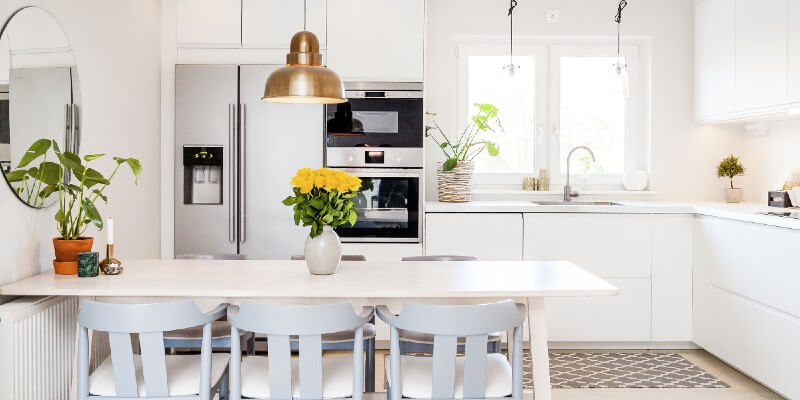 If you want to give your kitchen a new lease of life but don't fancy spending a lot of time on money on doing so, there are still ways to spruce up the space that won't break the bank or take much effort!
1. Decorate With Plants
Aside from aesthetic reasons, houseplants will make a great contribution to your kitchen as they have many psychological benefits, such as improving your mood and reducing stress levels. This is crucial if you want to create a relaxed atmosphere in your kitchen.
Tropical Plants
Tropical plants are ideal for kitchens as they are resistant to evaporation. This means that they will look great all year round regardless of moisture levels or changing temperatures.
Cacti And Succulents
If you have a busy lifestyle or find it difficult to maintain fresh house plants, the aloe and haworthia collection from Waitrose would make a great contribution to your kitchen. These plants are small in size, making them especially suitable for more compact kitchens, and they can be positioned in various places across the room to form a coherent design feature.
Flowers
Fresh cut or potted flowers are a classic feature in most homes and can effortlessly add colour and warmth to your kitchen. Although they require a little more TLC than cacti and succulents, their ability to complement your interior design makes them a brilliant addition to any kitchen.
Herbs and chillies
Growing your own herbs and chillies is obviously extremely practical as you can use your fresh ingredients when you cook. Herbs and chilli plants also boast an interesting appearance, making them a statement piece in your kitchen.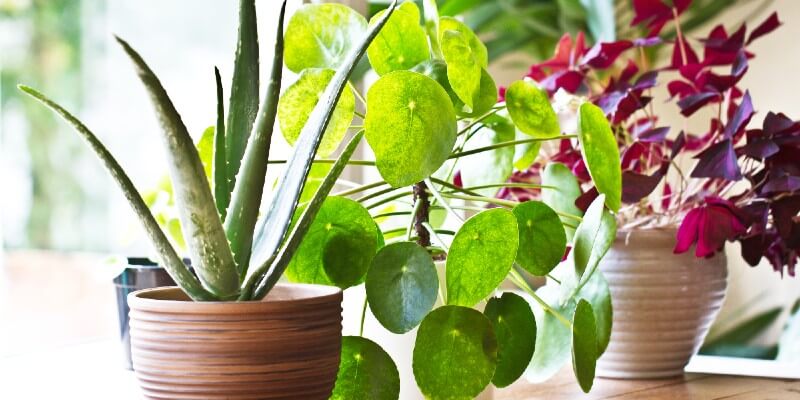 2. Unique Kitchen Furniture
If your kitchen is quite spacious, investing in some quirky furniture is a great idea. There are many factors which you should take into consideration when it comes to deciding what furniture you put in your kitchen. You must take into account the dimensions of your kitchen, your storage requirements and also the number of people that will utilise the kitchen. This is important because if you have a large family or tend to entertain a number of guests regularly, you will want to make sure you have enough seating.
If your kitchen has a breakfast bar, you can put your own stamp on it by investing in distinctive bar stools. Wayfair sells a variety of traditional and contemporary bar stools which would look excellent in any kitchen.
Other examples of innovative kitchen furniture include:
Serving carts and drinks trolleys
Kitchen islands
Minibars
Wine racks
Kitchen benches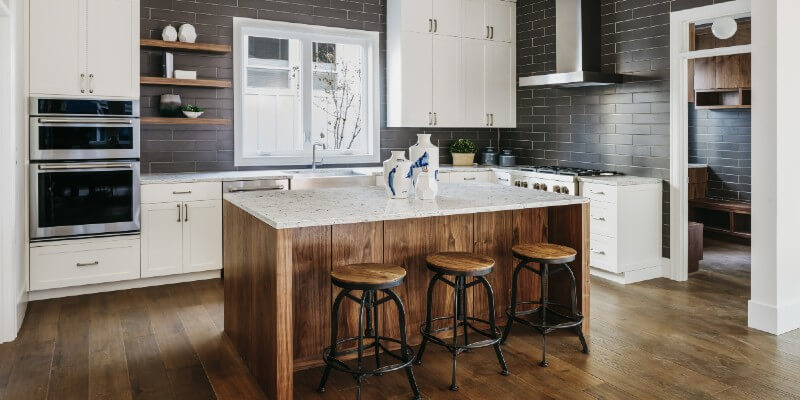 For those of you who dream of a traditional, earthy farmhouse kitchen, we have some tips to help you make this fantasy a reality! Farmhouse kitchens are typically cosy and bright with plenty of natural elements, so we have based our ideas on this.
3. Add A Set Of French Doors
Adding French doors to your farmhouse-style kitchen is the perfect way to enhance it's aesthetic and functionality: not only will they fit the traditional look, but they also allow plenty of natural light into the space, as well as provide an entrance and exit point! There is a range of colour options that would fit the farmhouse aesthetic:
White
White, being the traditional colour of French doors and windows, is an incredibly elegant option that will help make your space feel bigger and brighter. We suggest going down this route if you are worried about your kitchen feeling dark and gloomy instead of bright and cosy.
Mint Or Sage Green
While certainly a more eccentric choice, green French doors can look incredible when properly styled and balanced. Red is the complementary shade to green according to the colour wheel, meaning that if you have lots of earthy red tones in your kitchen, such as those in red bricks, your muted mint or sage green French doors will work beautifully with the rest of your kitchen. To further coordinate its appearance, you can always incorporate other green elements into the space, such as plants and coloured appliances.
Black
Black French doors look incredibly sophisticated and elegant and, when combined with a farmhouse aesthetic, provide the perfect touch of mystery. We suggest balancing black French doors with elements such as black stools in your kitchen.
If you would like to install French doors in Harpenden or one of the surrounding areas to elevate your kitchen design, please feel free to get in touch with our team to start discussing your options.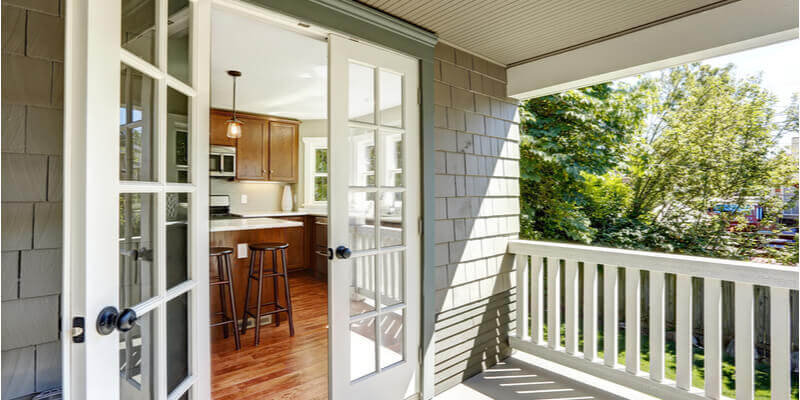 4. Install A Conservatory
While the idea of a gorgeous, cosy farmhouse kitchen is hard to resist, there are a couple of drawbacks to this style of kitchen: they can sometimes feel claustrophobic or be hard to properly illuminate, particularly if the building is old since traditional buildings were often fitted with small windows. However, these issues can be remedied by installing a conservatory!
Dining Room In Conservatory
Most houses are designed so that the kitchen is on one side of the home, meaning that it couldn't be easier to extend the room by having a conservatory fitted. This kitchen renovation idea will enable you to comfortably accommodate a proper dining table and chairs in your kitchen, helping you make it into a warm and inviting place to spend time with loved ones. By placing the dining area in the conservatory, you can dine in style, enjoying gorgeous views of nature throughout all weather conditions.
Insulated Conservatory
If you would like to go the extra mile to prevent your conservatory from losing too much heat in the cooler months, CS Windows offer double glazing in Harpenden which will keep your conservatory nicely insulated, enabling you to enjoy it year-round.
If you would like the help of our experienced and fully trained team of experts, who have installed many conservatories in Harpenden and the surrounding areas, please do not hesitate to get in contact with us.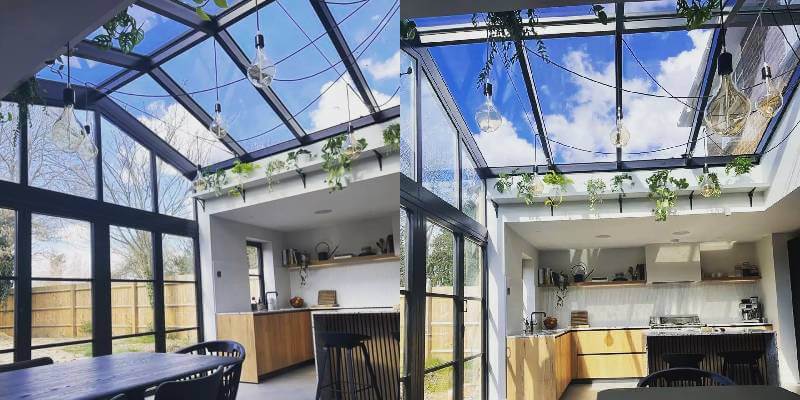 CS Windows Project – Conservatory
If you want your kitchen to have an ultra-modern, super sleek appearance but aren't sure how you can go about transforming its current look to match this, here are some modern kitchen renovation ideas that will help you!
5. Upgrade your appliances
Upgrading your appliances is a more subtle way of renovating your kitchen to look more modern. With technology constantly evolving, it is easy for your appliances to become outdated fairly quickly, so don't be afraid to replace them.
It is a good idea to ensure the appliances regularly on display, such as your toaster and kettle, complement your colour scheme as this will make the whole room look more organised. The De'Longhi range at Argos offers a wide range of ultra-modern kitchen appliances in a variety of colours, such as rose, blue and yellow.
Some of the most popular kitchen appliances on the market which you may want to invest in are as follows: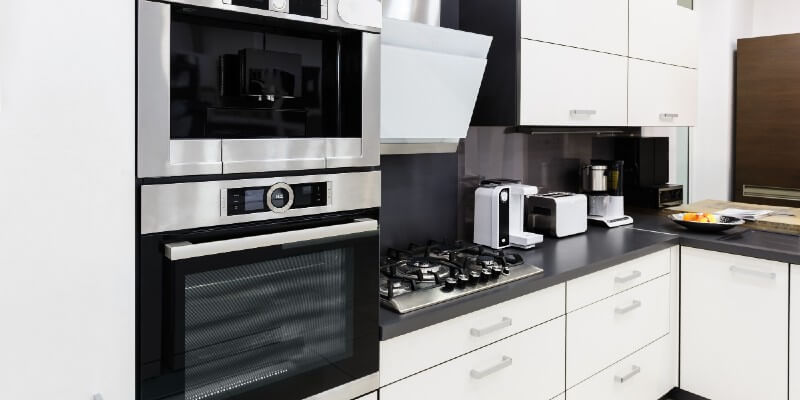 6. Modernise your countertop
The countertop is one of the main and most frequently used features in any kitchen, so making sure it fits in with the rest of the kitchen as well as being durable is essential. There are many materials which can be used for your countertop, most notably:
Laminate
Laminate is very versatile and is a cheaper alternative to other materials such as wood and granite. It is also available in glossy or matt finishes, so you can personalise it to your preference.
Luxury laminate
Luxury laminate countertops are available in a huge variety of colours, making it easy to match them with your colour scheme. They also require very little maintenance.
Timber
Timber is the perfect material to add warmth to your kitchen as it adds an element of natural beauty to your home. Although some maintenance is required, it is possible for your timber worktop to actually improve with age, making it one of the more sustainable options.
Granite
A granite worktop is exceptionally luxurious as it is made from a natural stone, making each slab unique in terms of colour, pattern and tonality. If you like one-of-a-kind products, then granite is the perfect choice for you.
To explore different styles of worktops, check out the range on Build My Kitchen!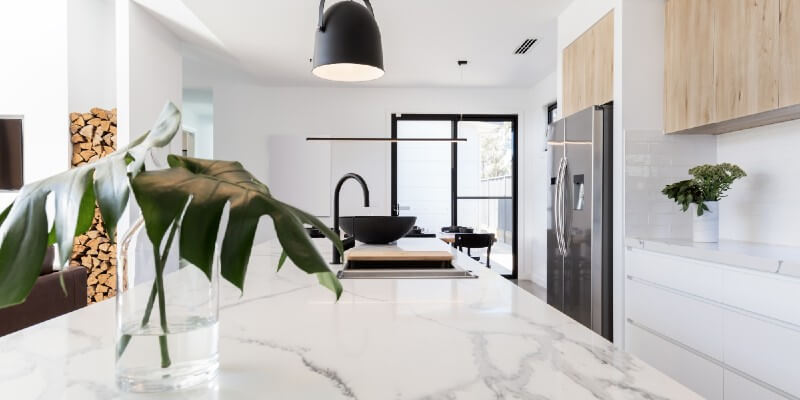 7. Add Rooflights
Stunning kitchen designs can only get you so far without proper lighting: a dark and dingy space will look dark and dingy no matter how many brightly-coloured elements you place in it. That's why fully illuminating your kitchen is so important! In order to make it feel modern, bright and open, you will need to utilise a combination of natural and artificial light sources. That's where rooflights come in.
Rooflights are a type of window that is installed into the roof of your home, letting natural light into the space, hence the name. Also called skylights, these clever installations can also be opened to ventilate the space when you need to cool it down or let strong smells out. There are two types of rooflights, each with an ultra-modern, sleek appearance, as well as a security-conscious design.
Flat
The glass panes of flat rooflights lay parallel with the slope of the roof, creating the perfect openings for sunlight to stream into your home. This type of rooflight works beautifully when placed above the dining table, setting a wonderfully positive atmosphere to enjoy meals with family and friends in.
Lantern
Lantern rooflights project outwards from your roof in a pyramid shape, creating an opening that not only allows plenty of sunlight into your home but also looks stunning and incredibly elegant.
Having had many years of experience in installing rooflights and windows in Harpenden and the surrounding areas, our team are more than happy to help you transform your kitchen by letting more natural light in via rooflights. Contact us today to get started!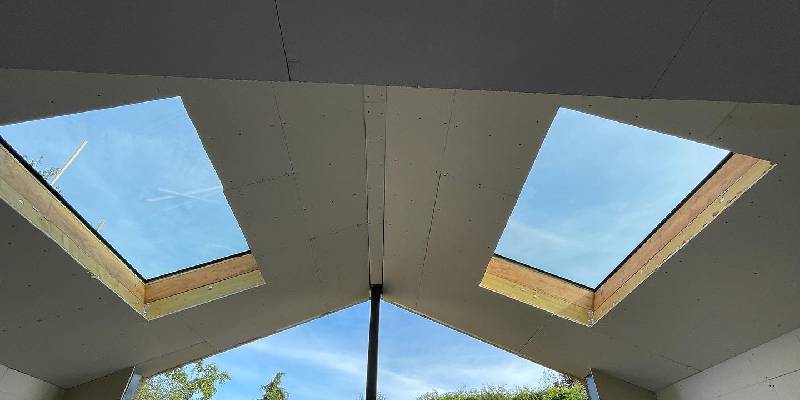 Stylish Kitchen Renovation Ideas
As one of the most frequently used rooms in any home, the kitchen should be a place which showcases your creativity but also offers a relaxing atmosphere for family and friends to enjoy. By using any of the suggested renovation ideas, you can make your kitchen look brand new and create a versatile and comfortable environment for all.
If you decide to renovate your kitchen using one of our ideas involving uPVC window frames, you'll want to check out our previous article, which offers a guide to cleaning uPVC window frames: a task that is essential but all too often neglected!