If you want to make the most of every room in your home, knowing how to make a small room feel bigger is vital. With our innovative ideas, you can easily transform your less spacious rooms into a stylish, modern and visibly bigger area.
Simple yet effective ways to make a small room feel bigger
Smaller rooms can be quite challenging to work with as the limited space restricts how much furniture you can include. However, there is no reason why this has to stop you getting creative and bringing out your inner interior designer to utilise the space more effectively. Innovative interior design is all about using the available space to your advantage, and believe us when we say there are many benefits of small space living. For example, a smaller bedroom is easier to clean and maintain, promotes stress-free minimalism and effortlessly creates a cozy and intimate environment. If you think you have been neglecting the smaller rooms in your house because their size is off-putting, try any of the following ideas and reap the benefits of a more spacious, aesthetically pleasing room.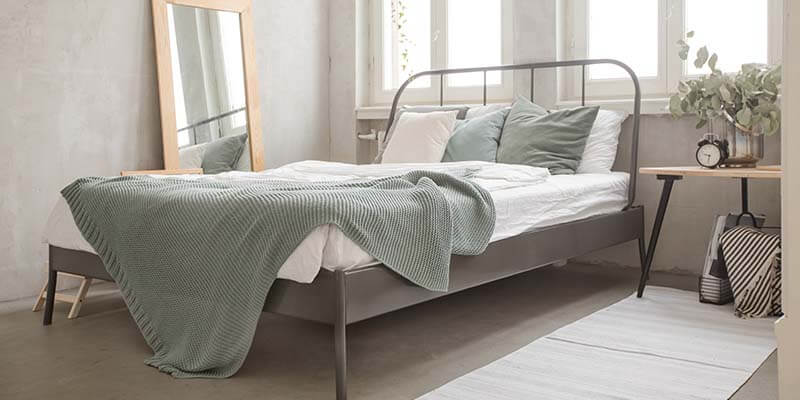 Creative colour schemes
Making a room appear bigger is all about optical illusion, and the best way to create the ultimate optical illusion is through your colour scheme. There is much debate within the design community as to what colours work best in a small room – dark or light. Each has its own benefits, so it is entirely up to you and dependent on your personal preference which colours you want to incorporate into your small room. We like to think that picking a paint colour is like picking what chocolate you want to eat; you can't go wrong as long as you pick what you like.
It is a well-known fact that light colours make a room look bigger and brighter for their ability to reflect natural light. If you want your room to feel extra open and airy, you can't go wrong with a classic white. White's ability to create a blank canvas is perfect for any room as you can add character using furniture and accessories. There are many variations of white you could use, but brilliant whites are recommended for exceptionally small rooms as they are devoid of pigment and will reflect almost all of the light which hits it. Alternatively, you could opt for a warm white paint with a yellow undertone or a cool white paint with blue and grey undertones. If you are hoping to have a more colourful room, other light clours that work well in smaller rooms and are favoured by designers are blush pink, sky blue and pastel yellow.
In terms of dark colours, it is best to avoid using them on the ceiling as it will make it appear lower, and thus, the room will feel more confined. To avoid this, simply paint the ceiling a light, neutral colour and save the dark colours for the walls. On trend colours you could opt for are dark grey, Oxford blue and berry.
Hidden storage and multi-functional furniture
One of the biggest challenges you face when working with a small room is the lack of storage space available. Trying to squeeze all your essentials into a small room without proper storage can result in it looking cluttered and cramped, so it is best to invest in smart storage solutions. Giving all your items a designated place will not only keep your room looking neat and organised but also gives you the opportunity to utilise quirky furniture pieces.
An increasingly popular storage solution for smaller rooms is an ottoman bed. If you aren't familiar with this type of bed, it is essentially a bed frame or divan bed which features gas-lift hydraulics. When opened, the base of the bed is lifted up to reveal generous storage space underneath. In comparison to standard drawer bed storage, ottomans offer greater storage capacity, making it ideal for smaller rooms where space is somewhat limited. The best thing about an ottoman bed is that it provides a significant amount of storage and is simultaneously the most practical piece of furniture in your bedroom. It is easy to personalise and complement your colour scheme too with duvet covers, throws and cushions.
Wardrobes in small rooms can sometimes look bulky and overpowering, but where else can you store your clothes? Well, why not consider using curtains. Sounds weird, right? But bear with us while we explain this creative storage solution. Instead of pushing your bed right up next to the wall, bring it forward a few feet into the centre of the room, leaving a suitable amount of space between your bed and the wall. Then, hang a sheer or patterned curtain behind your bed, blocking off the area and creating a totally concealed 'wardrobe'. You can use clothes rails and plastic boxes to store all your clothes and shoes, keeping everything organised and out of plain sight.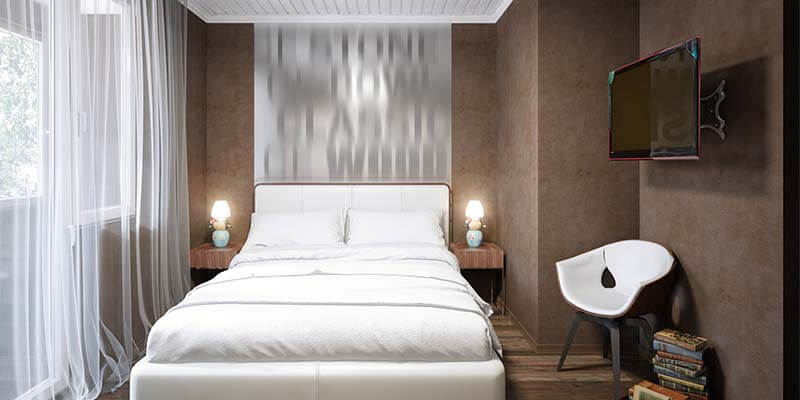 Large decorative accents
The finishing touches and decorative accents in any room play a vital role in its overall aesthetic, so taking the time to find the perfect pieces is worth your while. Whether your small room is a bedroom, office or dining area, you can easily add in some large scale wall art to give the illusion of a bigger space. Lots of small pieces of art hung up on the walls can make the room look cluttered and overwhelming, so one large piece is definitely the better option. It should also be noted that a couple of large ornaments placed in the room is a lot more effective than a collection of smaller ones dotted all over the place. For example, one large indoor plant in your small room will be more space-efficient compared to a number of smaller potted plants staggered throughout the room.
Another hack which is loved by interior designers and effectively makes a small room appear larger is the use of a big rug. Although it may seem counterintuitive initially, a small sized rug in your bedroom or living room could feel more like a bath mat and emphasise the limited space available, whereas a larger rug will maximise your floor space.
Declutter
A simple declutter is the easiest and most budget-friendly way to make the most of the available space. If there are clothes all over the floor in your bedroom or the kid's toys are displayed sporadically across the living room floor, then it's time to roll up your sleeves and start tidying up. It is likely your small room is home to a collection of random and useless items you no longer need or use regularly, so if you want to make the space appear bigger, now is the time to get rid of them. A buildup of clutter can make your small room appear even more cramped, so read this useful article for the best ways to organise a clutter-free small bedroom.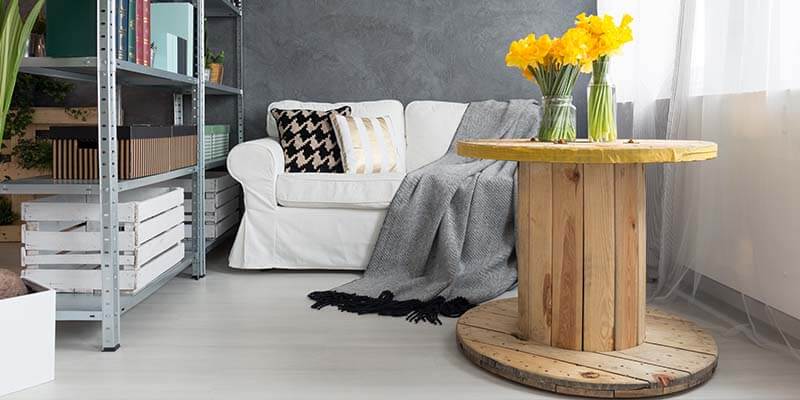 Mirrors
As previously mentioned, making a space appear bigger is all about creating an optical illusion. Colours are a great way to fool your eye into thinking a room is larger than what it really is, and mirrors also have the same effect. As mirrors reflect both natural and artificial light, it is easy for them to make a room appear brighter and bigger. If you think your room is lacking natural light, windows in Luton provide a generous selection of windows in a variety of different styles, so you are guaranteed to find one that's perfect for your small room.
If you have a small bedroom, hanging a large mirror above your bed will create a sense of depth, thus making the entire room feel more spacious. Alternatively, you opt for a variety of uniquely shaped mirror sets that you can place around the room in order to reflect as much light as possible.
Enjoy your new and improved spacious haven
If you have a small room in your home, try not to think of it as a nuisance or useless space, but instead think of it as an opportunity where you can showcase your creativity. With the simple ideas mentioned above, you can easily make your small room feel significantly bigger and create a space fit for Architectural Digest. If you are looking for other ways to improve the overall aesthetic of your household, you should consider french doors Dunstable and bi-fold doors Luton for an ultra modern but practical addition to your home.