The presence of natural light in your home is a well-known mood enhancer, making your mind feel free and helping to create a more relaxing ambience. It is also the most effective way of creating the appearance of a bigger and brighter space, making it ideal for those with a smaller space to work with. There are many ways in which you can create a brighter room, some of which are cost-effective for those on a tight budget. So, to lend you a helping hand, we have created an expert guide on how to brighten up a living room.
How To Brighten Up A Living Room: A CS Windows Guide
Whether you have a contemporary or traditional property, there are a host of ways in which you can incorporate a touch of light into your interior design. These methods allow you to keep your style at the forefront of the design, while helping you to enhance the light inside the room. Not only this, but a brighter room also comes with an abundance of benefits, such as making the room feel bigger, helping with mindfulness and allowing you to maintain a clean home. Just some of the many ways in which you can reap these benefits include: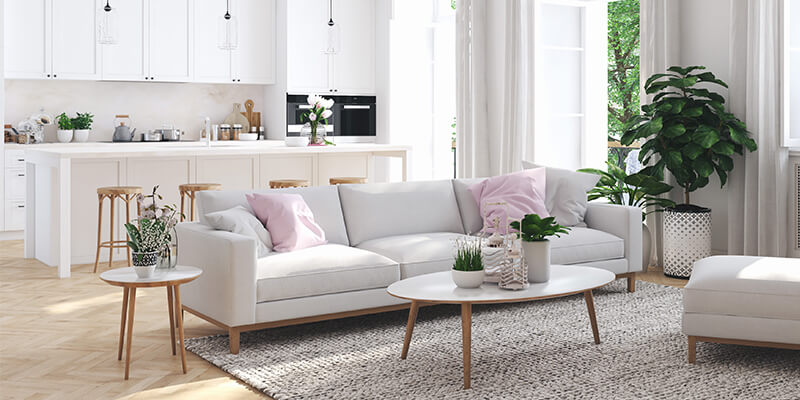 Everyone has their favourite colour, and while you may wish to incorporate it into your home, it is important to think about whether it is doing you any favours or creating more problems. There are many ways in which you can incorporate this colour into your home without going over the top, such as pillows, blankets, lampshades and more. However, when it comes to the walls of your living room, it is important to think wisely about the colour scheme, as it can completely transform the feel of the room.
Dark colours absorb light, making it one of the worst colours to use for a living room. Not only can this make the room feel smaller, but it can also create an unwelcoming essence. For this reason, it is always best to use a light colour scheme, such as white, beige and light blues. This makes the room feel bigger and inviting, and also makes it extremely easy to pair your favourite colours by threading it through your furnishings. If you're stuck for colour scheme ideas and would like some inspiration, then we would advise taking a look at Ideal Home's blog post!
If you're thinking of going lighter on your colour scheme, but currently have a dark colour on your walls, then you may find it difficult to completely cover the existing colour. However, Glidden has pieced together a helpful guide to give some advice and tips of how to thoroughly paint over dark wall colours.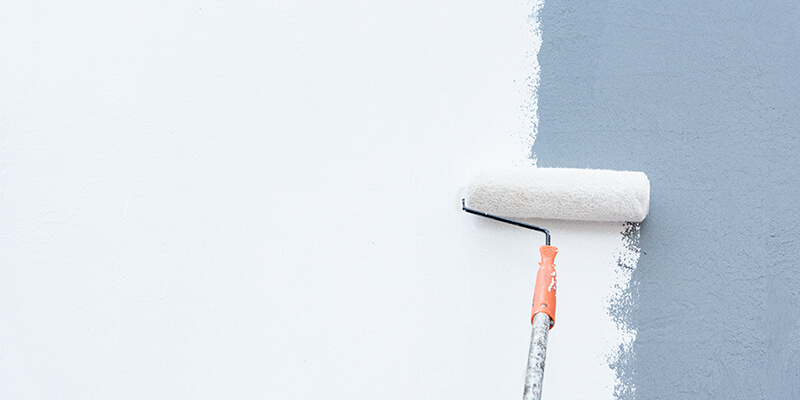 According to Taking Charge, being exposed to nature can significantly increase our emotional state, making it an important part of your life. For this reason, it can be one of the best design ideas to add to your living room decor. Small tropical-like furnishings such as plants, green pillows or even wooden tables can instantly lift the atmosphere of a room, making it feel brighter. The great thing about a tropical design is that it can easily be incorporated into a traditional living room just as well as in a modern room. For example, all you will need to do is incorporate a touch of traditional essence through furnishings, sofas and art pieces. Home Design Lover has a fantastic and beautiful range of tropical-inspired living rooms which can give you all the interior design inspiration you need.
When moving into a new home, one of the things that can completely transform your living room is the flooring; this is why many homeowners choose to replace the flooring as their first project. While carpet may prove to be an energy efficiency flooring type, it can be expensive and make the room feel cluttered and cramped. Instead, we would suggest using natural materials, such as wood or stone, in light colours.
There are now a whole host of colours that you can choose from, as well as cheaper alternatives to suit various budgets. For example, B&Q sell an exceptional range of wood flooring from light brows to light greys, making it easy for you to incorporate the perfect flooring into your living room. While real wood or stone may prove to be expensive, alternatives such as vinyl can provide you with exceptional results without the hefty price tag. However, if you are looking for something that can provide you with a long-lasting solution that looks timeless in any period or modern home, then we would suggest opting for stone tiling. You can even incorporate a touch of character with a marble tile, allowing you to bring in hints of greys, blacks, browns and more!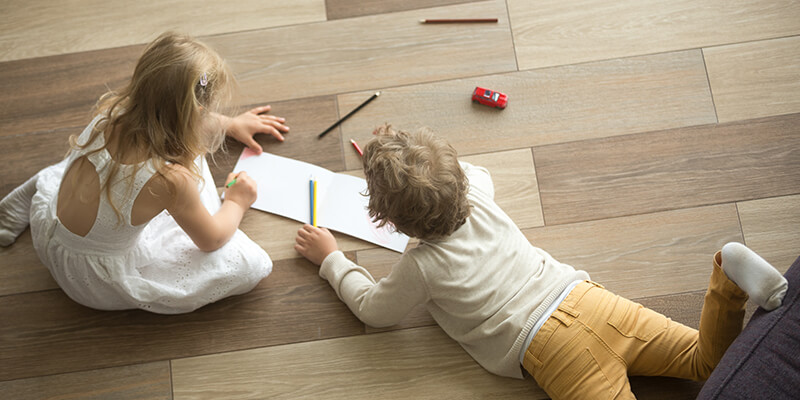 For any property, windows can make a significant difference in the way the home functions. The living room, for example, will require just enough windows to allow natural light to enter the home and travel through the property, as well as allow you to close the blinds and hide away when watching a film. For this reason, it is important to think about the windows that you currently have and question whether they function to your needs. If the answer is no, then there are an abundance of window styles, designs, shapes and materials that can enhance your living room, making it feel bigger and brighter through the use of cleverly placed windows and natural light.
If your windows are looking outdated and need an upgrade, or the windows are making your home feel dark and dim, then replacing them with new and improved designs, that offer multi-locking functions and the choice of light and airy colours, may come as an advantage. Other benefits to replacing your windows include:
Increases security
Reduces noise pollution
Improves thermal efficiency
Improves aesthetics
Luckily, much like flooring, there are some cost-effective solutions that can provide you with all the benefits listed above at a fraction of the cost. For example, our uPVC windows in Luton are the perfect addition to any home, allowing you to pick from an array of colours, finishes and designs to suit your property and personal style. Our previous article on choosing new windows for your home can give you some guidance on what will look best on your property, along with the range of window types available.
Another feature that you may want to consider is a skylight window; this is placed on the roof of your property and allows natural light to enter the home. Skylights are most commonly used on extensions to make the room feel much brighter and bigger than it actually is, and with the addition of the new window, it makes the extension the perfect location for your living room. If you would like to know more about the range of window options available for skylights, please feel free to contact our team to discuss your new windows in Luton and the surrounding areas.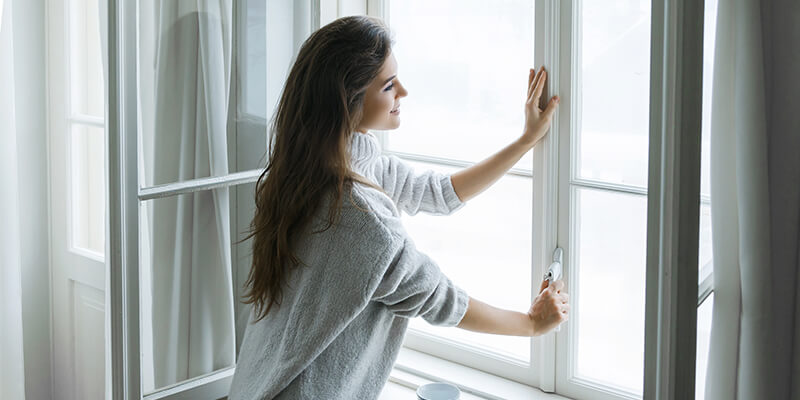 Bi-fold doors are a great way of creating a seamless transition between your home and garden, making them perfect for bringing the outdoors inside and creating a brighter room. Effectively, you are creating a wall of glass within the room, so the amount of light that will be entering the room is going to increase substantially. Not only this, but bi-folding doors can turn a more traditional home into a modern and contemporary interior design, using timber or aluminium frames to enhanced the doors, making them a statement piece within the home. Other benefits of bi-folding doors include the following:
Creates outside living, inside
Takes up little space, making them ideal for small properties
Customisable flexibility, as you can choose whether the frame opens left, right, in or out
Provides an added layer of security
Requires little maintenance
If you are looking for a more decorative alternative to making your living room feel brighter, then the use of mirrors is a fantastic way to make the room your own. Mirrors can be placed around the room to allow the natural light to bounce around the room, making it feel bright and even bigger. We would recommend placing the mirrors up high, above the sofa so that they don't get in the way of the rest of the decor, and are also placed in the perfect position to capture the sunlight. The use of one big mirror can ensure that the room doesn't start to feel cluttered, and can add an essence of sophistication to your interior design. OKA has a wonderful expert guide on how to use mirrors in your living room, so make sure you give it a read before heading off to IKEA or onto Wayfair to purchase your mirrors.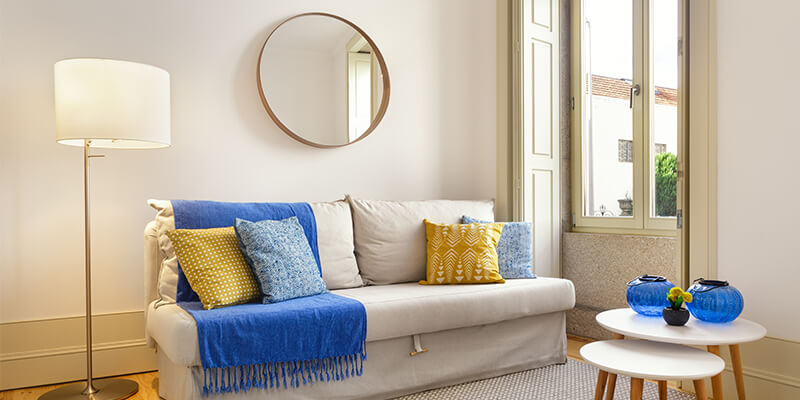 While it may be one of the more expensive options for bringing light into your room, a conservatory is one of the most effective ways to incorporate natural light into your home. Not only this, but it can even be used as a small living room/chill-out room that fully immerses light for a bright space. Many clients think that a conservatory is one standard design that can be customised in terms of size to fit with their home and requirements; however, this could not be further from the truth, as there are now a range of styles and design options available. This will allow you to fully customise your conservatory, deciding whether to have a tiled or glass roof, depending on how much light you wish to allow into the room, or what you wish the conservatory to be used for.
There are three main types of conservatory that can be used to enhance your property and provide you with some extra space. This means that you can find a conservatory design best suited to your needs and property type. Here are the different types:
Edwardian – a three-sided roof that can be either glass or tile, along with stunning windows to form walls in an elegant Edwardian style.
Victorian – styled similar to the Edwardian conservatory but with more of a curve for a softer finish and provides a panoramic view.
Lean-To – a more modern style with a slanted roof, making it easy to maintain and makes it transition beautifully from the original architecture.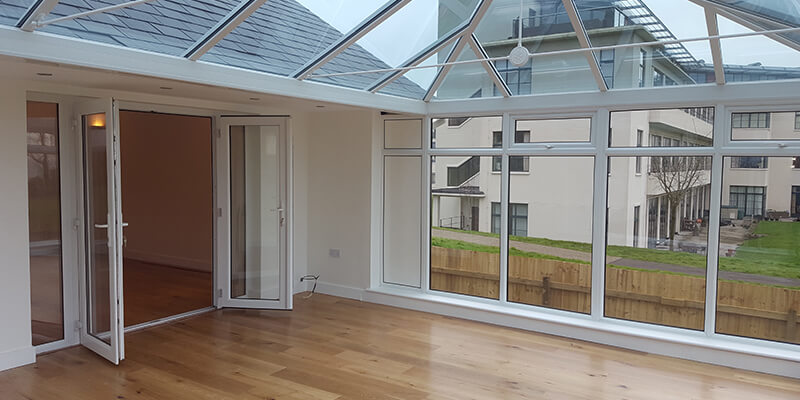 Clutter can instantly make a room feel smaller and darker, making it important to ensure that you regularly clear up after yourself. Blankets on the floors or half a cup of tea on the coffee table can make a room feel clustered. Simply by keeping your living room free of clutter, you can ensure that the room feels brighter, as well as allowing your furniture and finishes to stand out. This is particularly important for smaller rooms or for those that wish to incorporate the light features mentioned previously, as clutter can make it hard for the natural light to be reflected off your white walls, flooring or sofa. If you're finding it hard to declutter your living room the right way, then take a look at the handy tips on Abby Lawson's blog!
Taking Steps To A Bright Living Room
There are many ways in which you can brighten your living room, some of which are extremely cost-effective and provide you with a solution that enhances your interior design. Be sure to thoroughly think through the array of options provided and how they can help your property, as you may require more than one solution to reap the benefits of natural lighting.
The best way to ensure that you can get as much natural light into your home is to replace the windows. If you are considering replacing or installing new windows in Dunstable or the surrounding areas, then please feel free to contact the team for further advice on uPVC, aluminium or casement windows in Dunstable!