Most homeowners now decide to have their windows made from Un-Plasticized Polyvinyl Chloride because of the vast number of benefits it provides. uPVC windows have remarkably low maintenance requirements. The structure of this product is a lot stronger than the more traditional wooden windows available on today's market. It is able to sustain its quality and shape for a lot longer period of time and is resistant to corrosion and will not rot, unlike wood. uPVC window frames do also not need to be repainted or resealed and surpass wood when it comes to resisting damage. However, in order to preserve their longevity, they will need to be cleaned regularly. Here is a guide on how to maintain uPVC windows.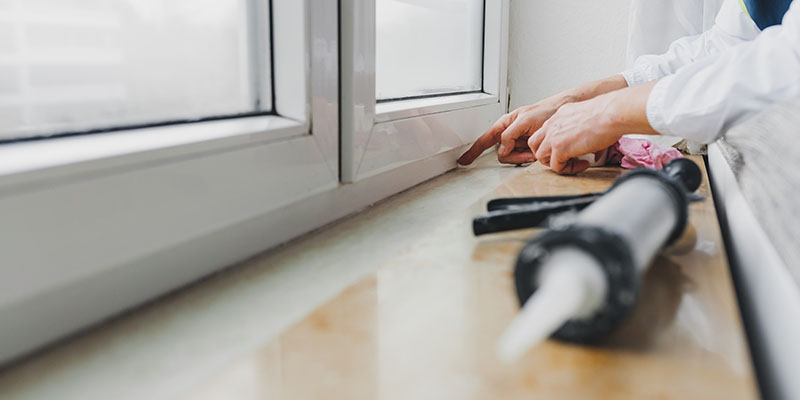 A Guide on How to Maintain uPVC Windows
It is important not to neglect implementing a proper maintenance regime for your uPVC windows. If you have had your windows recently fitted, then it is vital to preserve their durability to save you having to replace them. If you live in a rural area, then it is advised to clean your window frames every six months. For properties in a more built-up area, every 3 months is recommended. The more often you clean your window frames, the easier the job becomes. It is suggested that homeowners should ideally clean the glass panes in their windows 4 to 8 times a year. Here is some advice on how to go about cleaning both your uPVC window frames and the glass panels. Make sure that when you take the time to clean your windows, focus and pay attention to the handles, hinges and the locking systems.
How to Clean The Window Frames
To begin this procedure, start by opening your windows fully, brushing away any cobwebs, dust or dirt and then use the vacuum cleaner to remove the debris. You can then proceed, when the windows are cobweb-free, by wiping down the frames using warm water, washing up liquid and a soft sponge. In particular, make sure to pay close consideration to the very edges where the window sits inside the outer window frame. The internal frames of your windows may experience discolouration if they have been continually exposed to household cooking fumes or cigarette smoke. If this is the case with your windows, do not use abrasive substances or scouring pads in an attempt to restore the original colour. Ammonia-based products are also likely to damage the uPVC materials.
Avoid using a coloured cloth as the material dye may transfer onto the plastic windows. Under no circumstances should you also employ any harsh chemicals or abrasive sponges to the frames. If you are struggling to remove stubborn dirt, then you can use a solvent uPVC cleaner. You can purchase this product from DIY shops such as Screwfix and Toolstation. However, when you're applying the solvent cleaner, you must keep it away from your window's silicone seals as this can cause them to lift away from the surface.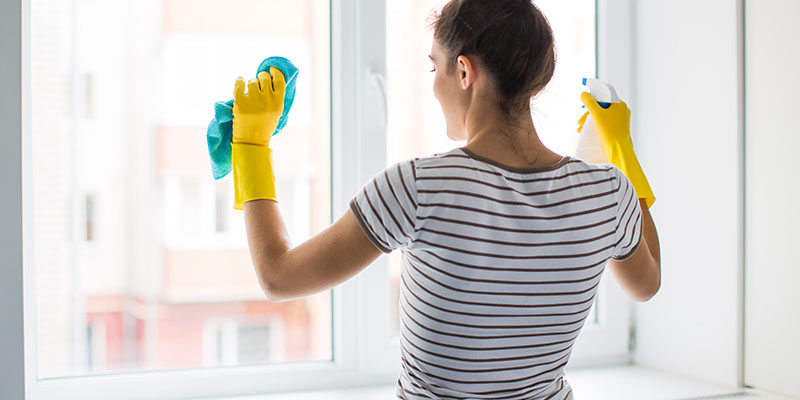 How to Clean the Glass
In order to achieve a streak-free finish, avoid cleaning your windows in direct sunlight. Start by removing all excess dirt from the glass using a damp cloth. Once you have started the initial process, you will have to decide whether to use traditional glass cleaner or a specific cloth, such as an e-cloth. If you opt for the glass cleaner, look for one that is guaranteed not to leave smear marks. Apply the product directly onto the glass and using a good quality cloth that won't leave fibres, work the cleaning solution into all of the corners of the window. You can then polish the glass using a clean and dry microfibre cloth.
Apply this regime to both the internal and external panes to achieve the best results. If the product you used as annoyingly left you with streak marks all across your windows, then newspaper is a surprisingly good material for buffing windows. If you are thinking of mixing up your own glass cleaning solution, then be careful not to use any products that will damage both the glass and the uPVC. Here is a list of products you must not use on glass:
Bleach
White or Methylated Spirit
Nail Varnish Remover
WD40
Scouring Pads
If you have decided you prefer using an e-cloth, then make sure to purchase two at the same time. Often you will automatically get two in one pack, one for cleaning the glass using water, and the other for subsequently drying in order to achieve the perfect shine.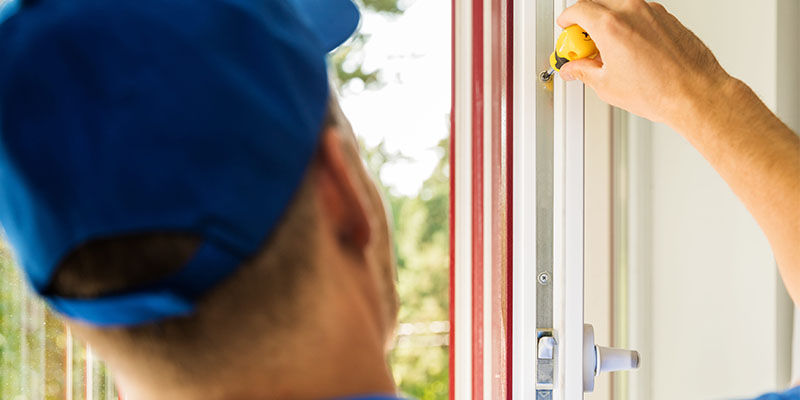 General Maintenance
It is just as important to regularly clean the moving parts of your windows, along with the glass and the frames. Use an oil spray to maintain the handles, hinges and locking systems within your windows. This should be done every six months to preserve their longevity. It is essential for the safety and security of your home to ensure that your windows are in good working order. If the hinges on your windows feel stiff, this can obstruct your escape route in the event of an emergency. If the locks on your windows are broken and no longer work, this can make it easier for burglars to break in.
Use a light oil, such as WD40 to lubricate the hinges. However, make sure not to get this on the glass.
Ensure window hinges are also clean to avoid dirt buildup.
Make sure the tracks on sliding windows are clear from obstruction to avoid them sticking. Use a wire brush to reduce the amount of excess oil on the tracks.
In order to maintain the handles, close the window, spray the oil onto the window key and insert it into the lock. Gently wiggle the key around and move it in and out of the lock.
To help keep the locking system in working order, open the window again, spray the oil onto the locking strip and wipe away any excess using an old cloth or kitchen roll.
To ensure you windows continue to open easily spray the oil onto the friction hinges. If you feel that the hinges are loose after they have been sprayed, tighten the hinge using a tightening screw. These are all simple methods of preventing long-term corrosion and quality reduction.
Re-cap
We hope you have found this article on how to maintain your uPVC windows educational and informative. The number of benefits that uPVC windows provides is endless. However, to preserve their durability and longevity, you must take the time to regularly give your windows the love, care and attention they require. If you think that you have neglected your windows beyond the point of repair, then CS Windows provides uPVC windows in Dunstable available in a variety of styles.