Aside from being stunning and sustainable decor, indoor plants have a number of health benefits that make adding plants to your home worthwhile. With hundreds to choose from in various sizes, you are guaranteed to find the perfect addition for any room in your home.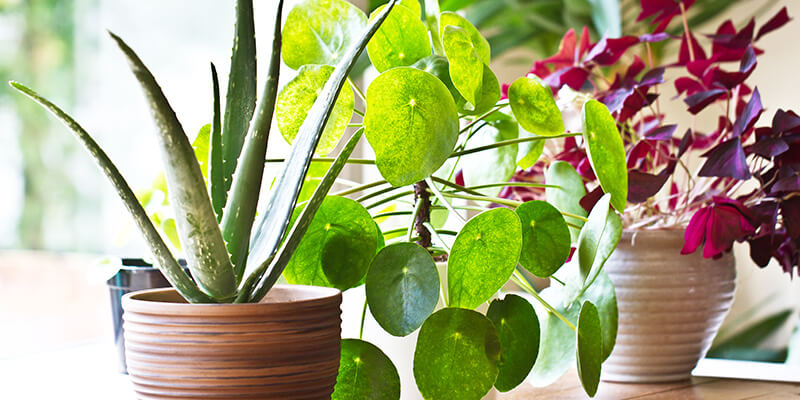 Why You Should Consider Adding Plants To Your Home
Many people assume household plants purely serve an aesthetic purpose, but this is definitely not the case. By opting to bring a small bit of the natural world into your home, you can reap a whole host of health and wellbeing benefits. Just a few advantages of having indoor plants include:
Increased productivity
Removal of toxins which purify the air
Production of oxygen
Decreased stress levels which create a relaxed environment
Being so versatile, you can incorporate plants almost anywhere in your home. As we have years of experience fitting windows in St Albans and the surrounding areas, we understand that sunny windows are the perfect location for plants to thrive. However, if your home doesn't boast a massive amount of natural light, then don't worry as there are a number of plants that don't need sunlight to survive.
Some people may be put off the idea of indoor plants as they assume they require a lot of maintenance. However, you do not have to be a gardening expert to care for your interior plants as most are almost impossible to kill. So, without further delay, here are our top benefits of adding plants into your home.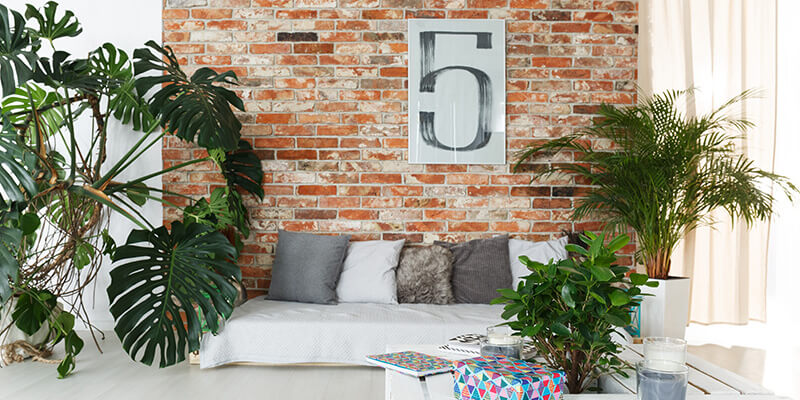 Stress Relief
There is no denying that we instinctively feel at ease when we are close to greenery. While plants will make your home more stimulating and interesting, they can also instigate more of a relaxed and quieter atmosphere. In fact, extensive academic research has claimed interior landscaping has dramatic positive effects on the wellbeing of the building's occupants. The calm-inducing qualities of particular plants are perfect for having around the house as it creates a tranquil environment to come back to after a long day of work. According to House Beautiful, these plants will help relieve the symptoms of stress:
Peppermint
Chamomile
Lavender
Jasmin
Aloe Vera
Chrysanthemum
Gerbera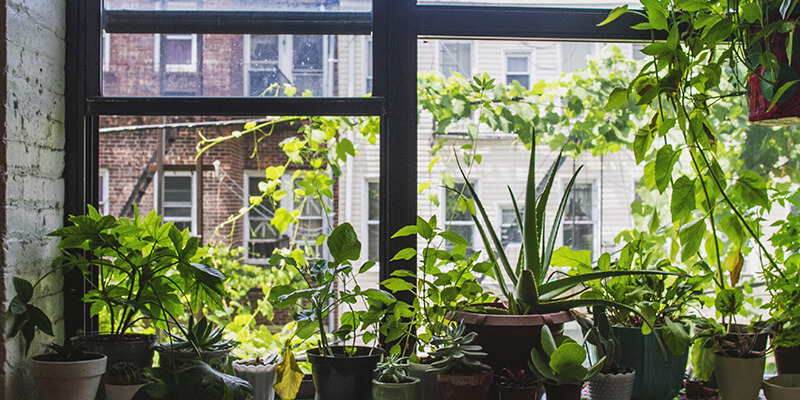 Improves Air Quality
The modern phenomenon of Sick Building Syndrome (SBS) is extremely problematic for office and home buildings alike. Causes of SBS could be from dust and smoke in the air or as a result of poor ventilation and poorly maintained air conditioning systems. This proves that air quality has a direct impact on our immune system. Luckily, plants have the amazing ability to improve air quality and thus boost our immune system. Indoor plants effectively:
Reduce carbon dioxide levels
Increase humidity
Redujce levels of certain pollutants
Reduce airborne dust levels
Keep air temperatures down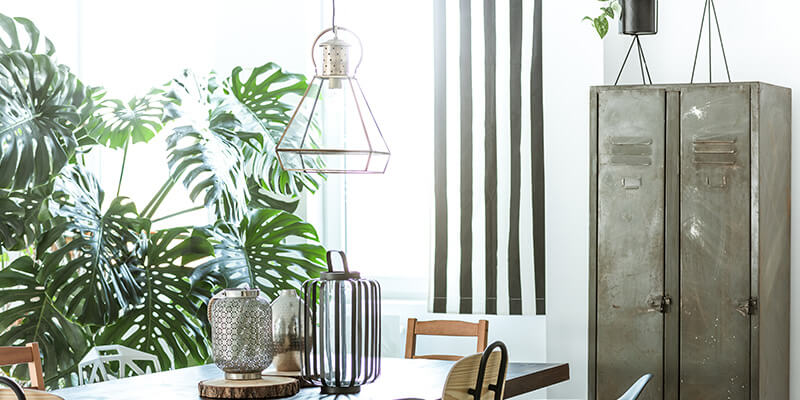 Improves Productivity
As well as being a decorative touch, many workplaces feature plants as research has found they can actually increase productivity by up to 15%. Simply being in the presence of plants has been proven to improve concentration and memory significantly. In fact, according to a study conducted by the University of Michigan, when "under the influence of plants" memory retention increases by up to 20%! While this is very beneficial for the workplace, it is also a bonus for your home life. An improvement in productivity and concentration will mean you will be more motivated to complete house chores, focus on one thing at a time and manage your time at home more effectively.
Picking The Right Plant For Every Room
Indoor plants have many qualities which make them better suited to some rooms than others. Although you can display your plants wherever you want, taking the time to research what plants work best where is worth considering. To make things a little easier for you, we have listed what plants we believe will thrive in 4 main rooms of your home.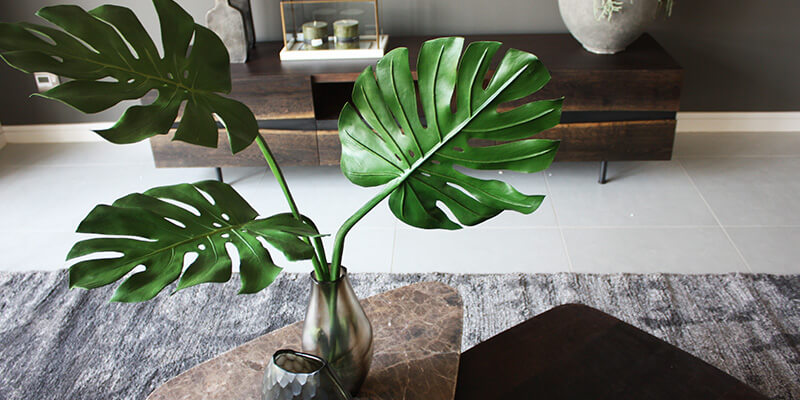 Living Room
Many homeowners opt to incorporate plants into their living room as they can complement the existing decor perfectly while providing and a pleasing focal point. How you display your plants is entirely up to you, but if you need some inspiration, take a look at these 10 beautiful ways to decorate your living room with indoor plants. Some plants which work great in a living room are:
Philodendron
English Ivy
Weeping Fig
Bedroom
From your bedside table to the window ledge, your bedroom is full of prime locations to keep plants. However, to ensure the air quality in your room does not deteriorate through the night when most plants will begin to release carbon dioxide, you need to select what plants you use carefully. It is worth taking the time to research what plants filter out toxic substances and also absorb CO2 during the night as well as the day time. For your convenience, we have listed a few of our favourites below:
Peace Lily
Pothos
Lavender (Great for helping to send you to sleep!)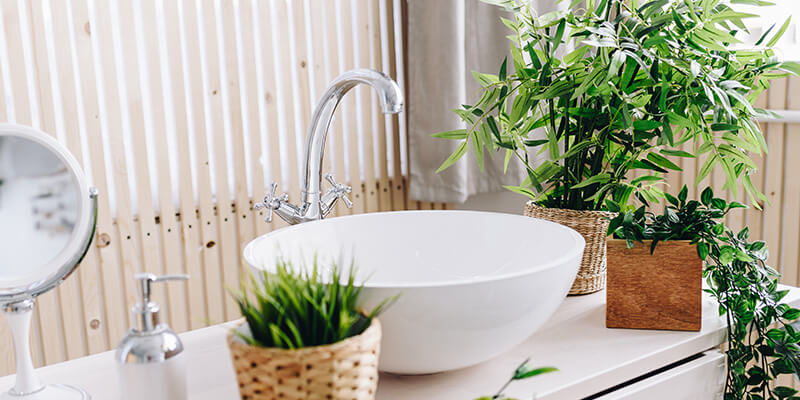 Bathroom
A lot of people assume the bathroom isn't a suitable location for plant life, but this definitely not the case. There are a number of indoor plants which thrive in low-light, humid environments – making them perfect for your bathroom. So, if you want to add character to your bathroom and make the space all the more refreshing, consider using these plants:
Kitchen
Your kitchen is an excellent space to showcase your greenery and grow your own ingredients. Adding plants to your kitchen will make the entire space look fresh and inviting – ideal if you use the room to entertain guests regularly. Here are a number of plants that would make an excellent addition to your kitchen:
Herbs (such as basil, oregnao and parsley)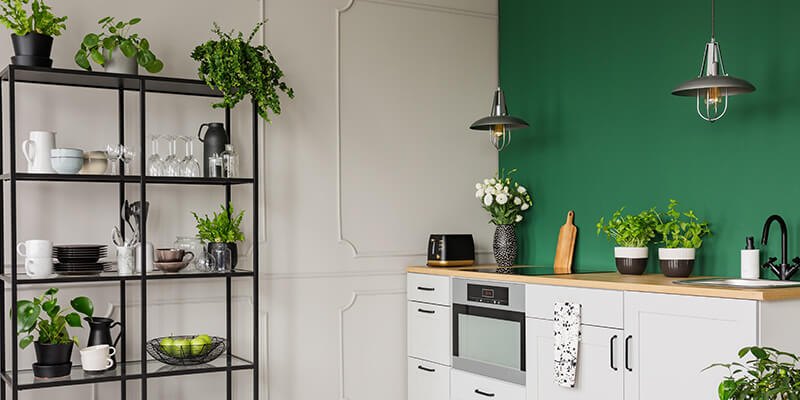 Making Your House A Home
Bringing nature into your house is guaranteed to make your property feel more homely, welcoming and zen. Moreover, the health benefits of indoor plants prove they are an excellent addition to any room in the house. If you are looking for more ways to improve your home, you should consider our windows in Stevenage and double glazing in St Albans.