When building a conservatory or upgrading your existing space, you most definitely won't be short for ideas, especially when it comes to the roof design. However, determining the most suitable option will take careful consideration and meticulous research. The roof is one of the most important factors of your conservatory, so when investing your time, money and efforts into a new space, choosing the best-fitting style for your home will be essential.
Having specialised in conservatories in Luton and the surrounding areas for many years, we have helped hundreds of clients to transform their home. Before any project, we will always run through the different conservatory roofing options and ways to personalise the build to meet requirements and personal preferences. So, we have put together a guide on the various roof styles and what property type they are best suited to.
Conservatory Roofing Options: What Is The Best Type Of Roof For A Conservatory?
When working with clients, by far, one of the most common questions we are asked is, "what is the best type of roof for a conservatory?"; there is no precise answer to this as it differs based on your property, how you plan to use the space, style requirements, and whether you are replacing the roof on an existing conservatory. For example, if you want your conservatory to be more of an extension of your home without full glazing, then a tiled roof conservatory would be the best option. However, if you love the bright, open space that shows a full uninterrupted view of your garden, then a more traditional style such as the Victorian or Edwardian conservatory would be ideal.
At first, this can feel impossible to decide; however, once you have familiarised yourself with the features of each conservatory type, it will become a lot clearer. With this in mind, our guide will run through the following: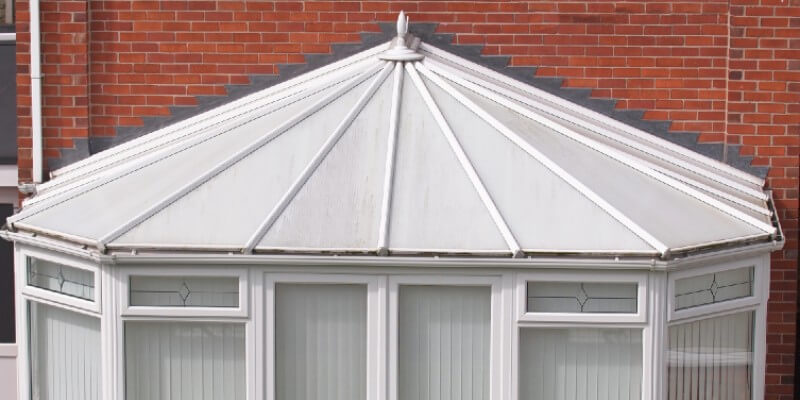 Whenever a client approaches us regarding our conservatories in Dunstable or any of the other areas we cover, we will always spend time running through the different styles. The main difference between each of these is their roof design, but once you have made your decision, you are then free to customise the project as much or as little as you wish. So, let's take a closer look at the different conservatory roof types and the features of each:
1. Victorian Roof Conservatory
The Victorian roof conservatory is inspired by traditional gothic architecture and offers a stunning panoramic view of your garden. The complex detail on the cresting and decorative glass ensures a true replication of Victorian-era design. The period style conservatory best complements traditional properties but can make an elegant addition to modern and more contemporary homes.
Because of the versatile roofing system incorporated into the design of Victorian conservatories, you can decide on both the span and pitch, maximising the available shape, size and configuration of your conservatory. You have the choice of either a glass or solid roof, depending on your preference and the aesthetics of your home.
Due to the exceptional thermal insulating qualities, we always opt for fitting double glazed windows to the structure of our Victorian roof conservatories. Double glazing is a vital component in guaranteeing warmth during the winter and a cooler temperature as the summer months approach. It prevents the common problem with older conservatories whereby a steady temperature proves impossible, ensuring that your space is usable all year round.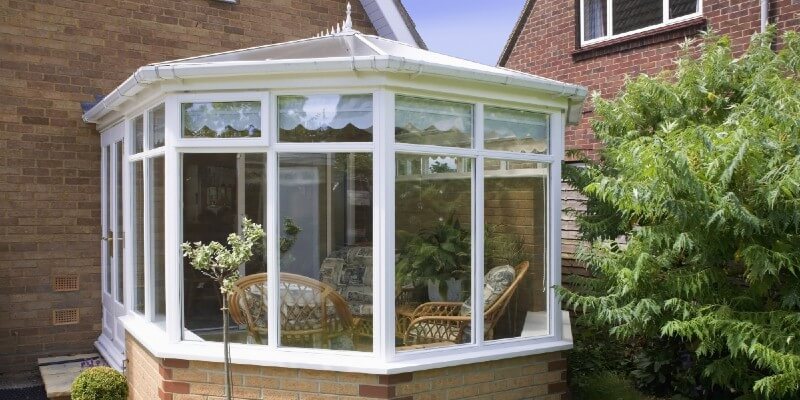 2. Lean-To Roof Conservatory
As one of the most contemporary conservatory roof styles, the lean-to is promised to enhance any modern property or add a stylish twist to a traditional home. This design is often referred to as a 'Mediterranean' conservatory and features a simple architecture, making it ideal if you are on a tight budget but want to maximise living space.
The design of the lean-to conservatory makes it perfect for properties with restricted space under the eaves. You can alter the pitch of the conservatory roof depending on the height of your home. A steeper pitched roof will fit suitably under a taller terraced house, whereas shallowly pitched conservatories are practical for bungalows.
Those who opt for a lean-to style are free to add French, bi-fold or sliding doors into the structure of their conservatory to add a personalised touch, integrating the home with the garden and filling the space with natural light. The simple rectangular floorplan of the conservatory also allows for the space to be converted into several different room types, from a second living room to a home office.
If you are considering a lean-to conservatory but unsure which door type to integrate into your design, our team are always more than happy to help. With years of experience installing doors in Luton and the surrounding areas, we accommodate full customisation to ensure the perfect addition to your conservatory.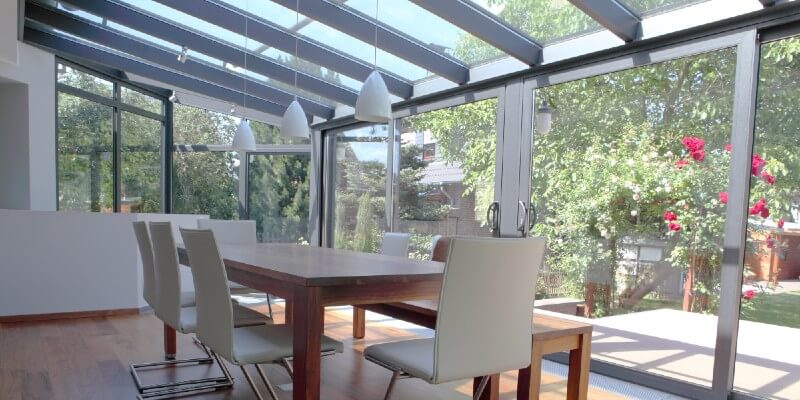 3. Edwardian Roof Conservatory
With a similar design and layout to the Victorian conservatory, the Edwardian style remains a popular choice amongst homeowners. However, unlike the Victorian style, the Edwardian roof conservatory incorporates a square or rectangular shaped floor. Nevertheless, the rigid apex roof design still provides you with the authentic feel of a Victorian conservatory.
Similarly to the design of the Victorian conservatory, the three-sided roof allows maximum light into the room and a substantial amount of headroom. It is also finished with intricate detailing on the roof and elegantly designed girders. Because of these features, this design best complements the more traditional looking properties.
The more practical layout of the Edwardian conservatory makes it convenient for smaller properties looking to extend the available space. It is also ideal for those who prefer the appearance of a traditional conservatory but want a more usable space whereby they do not need to alter their furniture to fit with the rounded floorplan.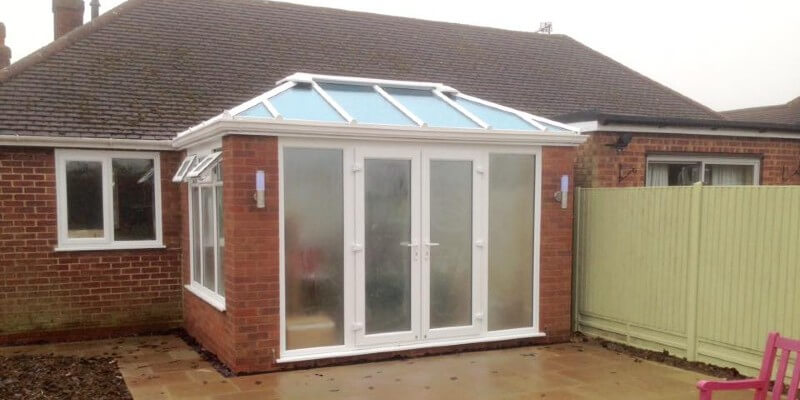 4. Gable Roof Conservatory
The unique design of the gable conservatory makes it the perfect addition to most properties. With the high vaulted roof and the triangular-shaped front, this style of conservatory can be adapted to suit both period and contemporary homes. However, the elevated front does mean this style best complements properties with high ceilings.
The vertical roof system and symmetrical design of this conservatory provide a significant amount of floor space, headroom and lets in an ample amount of light. If you have a single-storey property and are contemplating the addition of a gable conservatory, then you will have two options on how to go about the installation process. The more elegant, but slightly pricier option is to create a dormer in the existing property roof that connects with the pitch of the new conservatory roof. Alternatively, you could use a sloping back pitch which will share the drainage with the house roof. This will then feed into a box gutter system and is a far cheaper alternative. For more information on what to consider when attaching a conservatory to a single-storey home, take a look at Metrotile.
5. Tiled Roof Conservatory
Also known as a solid roof conservatory, the tiled roof style has many similarities to the appearance of an extension instead of a traditional conservatory. If you are keen on the idea of enhancing living space with the help of a conservatory but aim for the construction to blend seamlessly with your home, then a tiled roof would be the perfect route to bring your vision to life.
Due to the extension-style feel of a tiled roof conservatory, the ways that you can use your new space are endless, whether it may be a dining room, living room or playroom. Rather than an open-plan space filled with floor-to-ceiling windows and a glass roof, the tiled roof conservatory features solid walls and a plastered roof, making it look the same as any other room inside your property. Most homeowners opt for fitting sleek roof lights to their conservatory to enhance natural light and incorporate the traditional aesthetics of a conservatory. When designing your conservatory with CS Windows, we stock an extensive range of roof lights in Dunstable and the surrounding areas we cover. These are available as either lanterns and flat roof lights with over 150 RAL colours to choose from. This makes it easier than ever to add a personal touch to your conservatory.
Not only do tiled roof conservatory look fantastic, but they also offer excellent thermal benefits. Due to the additional layers of insulation needed to construct a solid roof, you are guaranteed a cosy retreat in the winter and cool space when the temperatures begin to rise. Along with heat insulation, the additional roof layers also help to improve the acoustics of your conservatory.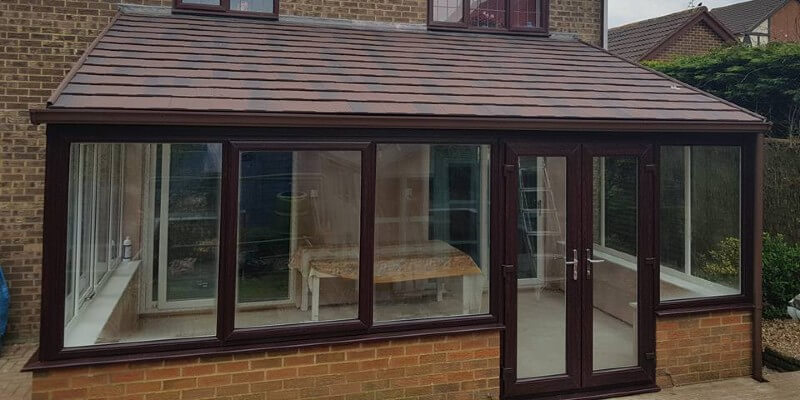 A common problem that many homeowners have with older conservatories is that they become uncomfortable to relax in, which means that they turn into an extra space to hoard old belongings. However, this doesn't necessarily mean that you have to completely tear down and rebuild the conservatory; restoring the space may be as simple as replacing the roof. Re-roofing a conservatory is far more cost-effective and time-saving than rebuilding the entire structure, but in order to make the decision, there are a number of factors to consider. The main of which include:
Do You Have A Budget?
Setting a budget is vital for any renovation works as it creates a foundation for what your project can include. For example, if you are planning to upgrade both the roof and the inside of your conservatory, you will need to keep money aside for the interior design. Whereas if you have a larger budget solely for the roof, you can consider luxury additions such as custom roof lanterns and integrated spotlights.
Is There Any Damage?
If there is any pre-existing damage to your conservatory, whether this may be structural problems or leaking, then this should most definitely be discussed before replacing the roof. These will need to be rectified before a new roof can be installed, making your project slightly more costly.
Do You Have A Style In Mind?
Perhaps the most important factor is whether you have a vision in mind of what you want your conservatory to look like. Conservatory roofs come in all manner of shapes and sizes, which means that it couldn't be easier to find one that fits your personal style. Keep in mind whether you prefer simplistic, modern designs or something a little more eclectic.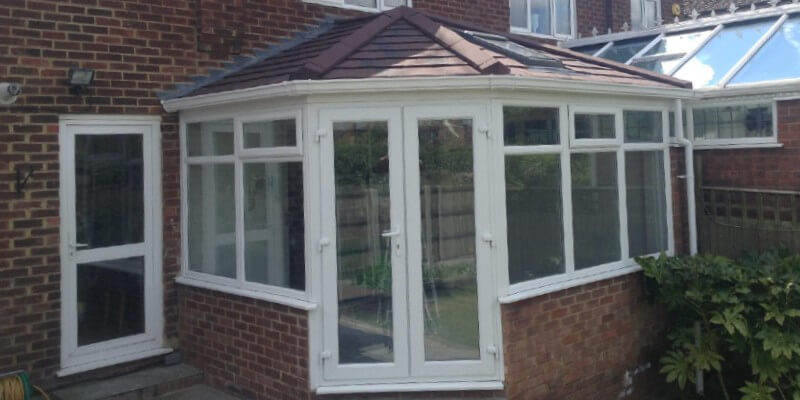 How Big Is Your Conservatory?
The size of your conservatory may determine the roofing styles available. In some cases, if your conservatory is larger than the typical dimensions, you may need to have the roofing materials custom made or be better suited to a solid roof, for example. When working with our team, we will always take full measurements of your existing conservatory to give a clear indication of the options available.
Is There Any Building Regulations?
In most cases, building and altering a conservatory falls within your permitted development rights, but it is always worth checking building regulations before making any changes. If your property is listed, in a conservation area or national park, then the rules will be slightly different, and you may have to apply for planning permission, even if you are doing no more than replacing the roof. For more information, head over to Planning Portal or take a look at the handy video below by LABC.
Pair Your Conservatory With The Best-Fitting Roof
There are many different factors to consider when choosing the right conservatory roof, whether it may be personal style preferences or the amount of natural light you want to stream in. We would always recommend beginning with deciding if you would like a solid, plastered roof or a traditional design with full glazing. From here, you can then start to shortlist options and personalised your space. For more information on any of the roof types mentioned above or to begin discussing a project, please do not hesitate to get in touch with our team!