Orangeries remain one of the most popular home renovations, ideal for creating additional living space, enhancing your property and introducing more natural light. Whether you are in the process of building an orangery or are hoping to revamp your current extension, there are a whole host of decor possibilities. To give you some inspiration, we have put together seven stunning orangery interior design ideas, ranging from both ends of the price scale.
The Top Orangery Interior Design Ideas
Orangeries are a cost-effective way to add extra living space to your home. As an affordable alternative to moving home, they are also a proven way to add value to the total price of your property. They are ideal for merging the indoors and outdoors, creating an airy atmosphere, so use this to your advantage when considering the interior design.
With years of experience constructing orangeries and conservatories in Luton, we have been lucky enough gain tonnes of ideas on uses of your new extension. Whether you opt for creating a cosy living area or a designated playroom for the younger family members, the possibilities are endless!
1. Neutral Colour Scheme
A neutral colour scheme is a perfect way to future-proof your orangery, ensuring that you can enjoy full value for money. Opting for a neutral base for your room will create a blank canvas, in which you can decorate to suit the latest interior design trends. If you have a change of heart in a few years, you can then adjust your interior design easily without having to arrange a complete renovation. Bold colours and patterns can be incorporated through finishing touches such as cushions, lampshades and wall art.
When deciding on a colour scheme, we suggest adopting the 60-30-10 rule. The concept is super easy to use and relates to the percentage of each colour you will use in one room. It includes the following:
Main Colour – Your main colour will take up 60% of your room; this will consist of aspects such as walls, rugs and sofas.
Secondary Colour – 30% of your room should feature your secondary colour, which could be items such as curtains, painted furniture and bed linen.
Accent Colour – Last, but not least, is your 10% which relates to the accent colour. All accessories, including pillows, light frames and artwork, will match the accent colour.
More information on using the 60-30-10 rule can be found on The Spruce.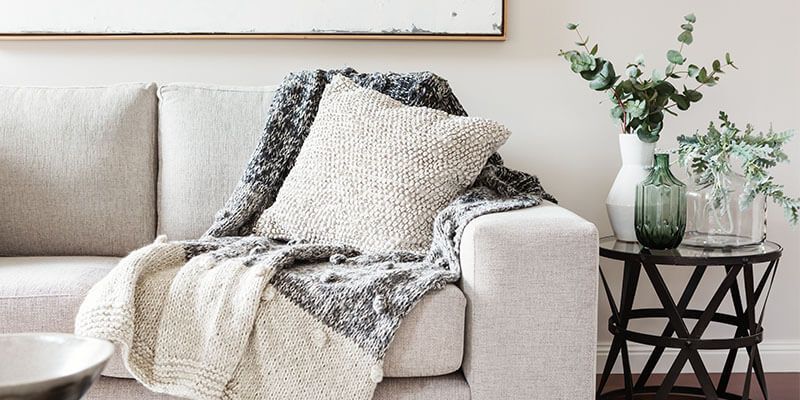 2. Cosy Seating Area
If you love nothing more than snuggling on the sofa at the end of a long day, then transforming your orangery into a cosy seating area would be perfect! It can double-up as a 'quiet zone' where family members can retreat when they need some time to unwind.
Creating your own haven for relaxation needn't be a tricky task. The most important component will be your seating, whether this may be a sofa, beanbags or armchairs. Our personal favourite is corner sofas, available from retailers such as Sofology. Corner sofas come in a plethora of sizes, styles and fabrics, all of which can be tailored to your taste.
To add an extra touch of cosiness, we suggest filling a basket with faux fur blankets and comfortable pillows, which family members and guests can grab on those colder evenings.
3. Rustic Dining Furniture
As mentioned previously, one of the biggest reasons for building an orangery is to enhance living space, particularly beneficial when your home is filled with a growing family. In this case, utilising your extension to create an open-plan dining room would be ideal.
Catching up and telling stories of the day over dinner is one of the best ways to spend time as a family, which means that your dining set needs to be not only functional but also comfortable. Rustic dining furniture continues to be one of the most popular styles as it incorporates a vintage feel with a sleek finish. They are fantastic for taking centre stage in your orangery, meaning that the remainder of the room can maintain a minimalist theme. We love the generous selection of rustic dining tables and chairs on Home and Furniture.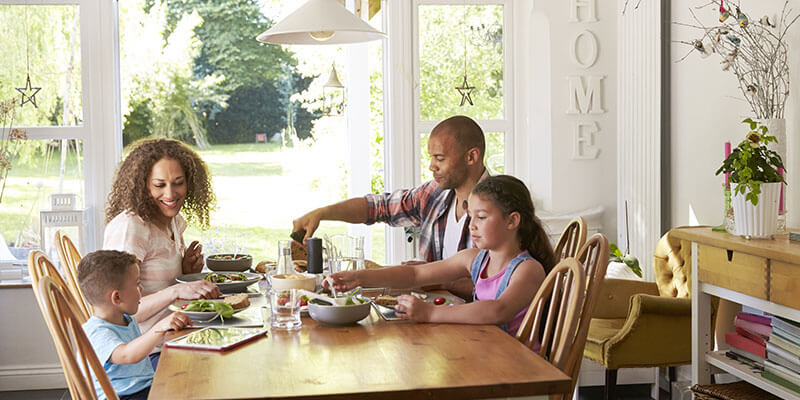 4. Patterned Rugs
A vast majority of orangeries feature wooden or stone flooring, which while it looks fantastic, can be a little cold during the winter months. A great way to keep those feet cosy, while making a statement, it to decorate using patterned rugs.
When searching for the perfect rug, don't forget to consider your colour scheme. It is your choice whether you opt for incorporating your accent colour into the patterning or stick to neutral shades. Patterns range from stripes and geometric designs to floral and oriental alternatives.
As the rug will be on wooden or stone flooring, it is likely to move, causing safety hazards. With this in mind, it is imperative to ensure that you have invested in non-slip tape or a pad for underneath the fabric.
5. Incorporate Plant Life
Bring nature indoors and add a splash of colour to your orangery through incorporating plant life. While house plants have always been a popular addition to interior design, we are only now becoming familiarised with their health benefits.
One of the most significant benefits of plants is their ingenious ability to clean the air. During photosynthesis, plants absorb the carbon dioxide in the surrounding atmosphere and breathe out pure oxygen. They help us to increase the oxygen levels in our body, promoting healthier lungs and breathing. More information on the array of benefits of having plants in the home can be found on Eco Watch.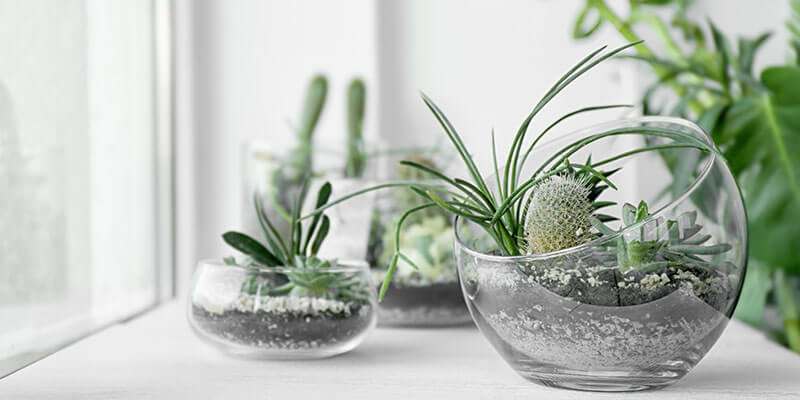 6. Decorative Mirrors
Mirrors remain the most sought-after interior design hack for creating the illusion of a larger space. When surrounded by neutral, pale colours, mirrors reflect the light and create an airy atmosphere. To find the ideal position for mirrors, keep in mind that the more surrounding natural lighting, the better. This makes them the perfect addition to every orangery, thanks to the increased number of windows.
If you are hoping to maintain a minimalist, contemporary approach, then we most definitely recommend experimenting with decorative mirrors. Decorative mirrors still make a unique statement, without having to inject crazy colours or patterning. If you're stuck for inspiration on how to decorate with mirrors, take a look at Elle Decor.
7. Add A Daybed
If you are lucky enough to have a spacious orangery, then this is an excellent opportunity to create a multi-functional room. Adding a daybed to your extension means that you will not only have a tranquil space to relax, but it will also function as a guest room. In doing this, you will have plenty of space to invite guests to stay, without having to sacrifice any of your bedrooms.
Those who do opt for adding a daybed would also benefit from investing in blackout curtains or blinds, additional heaters and plenty of blankets. Orangeries are not always the warmest of rooms, so incorporating cosy extras will ensure that your guests remain comfortable, warm and can catch a good night sleep.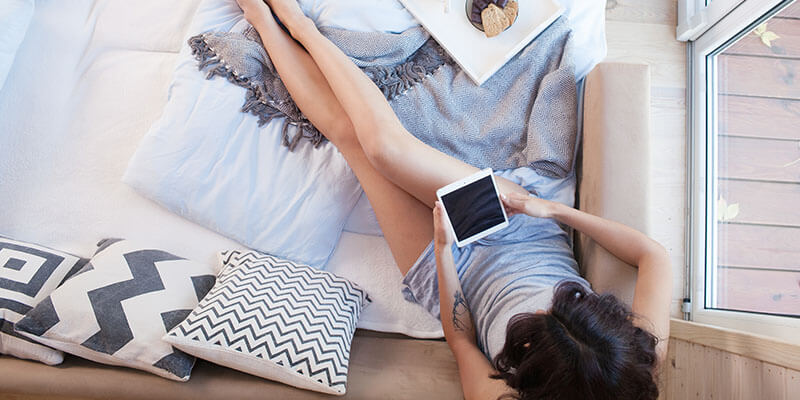 Bring Your Vision To Life!
Orangeries provide the perfect opportunity to get creative and incorporate items that are little bolder than you would do so in the main rooms of your property. They come alongside a plethora of different uses, whether this may be a dining room, chill zone or guestroom; each of which can be transformed using the latest interior design trends.
If you are considering building an orangery conservatory in Luton, but not too sure where to start, the team at CS Windows are always more than happy to help. Not only can they build a spacious, fully-functioning space, but also help you to decide how you wish to decorate!